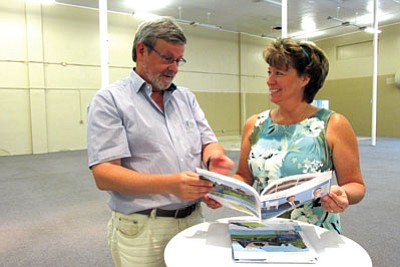 Originally Published: August 1, 2013 6:02 a.m.
KINGMAN - The former city-owned Development Services building in downtown Kingman is slated to become the life of the party when it opens in October.
New owner Werner Fleischmann announced Wednesday that the building will house Beale Celebrations, an event and celebration center. The building, located at 201 N. Fourth St., will provide space, decorations and catered food for meetings, training seminars, weddings, parties and other activities.
Dora Manley, owner of Dora's Beale Street Deli, will offer catering and party planning services as part of the business. No hiring is planned for the near future, as deli staff will handle the catering at first.
"When I bought this building from the city, I was the only one willing to take a chance on it," said Fleischmann. "I thought about what to do with it and this idea was brought up. There's nothing comparable to it in Kingman and I think it could serve the community well. Right now, everyone has to leave town for their events. This will bring them back and into the downtown."
The Fleischmann Arizona Investment Corp. purchased the property from the city of Kingman in April, submitting the lone bid of $350,000 for the 8,741-square-foot structure. It was built in 1941 and was home to a JC Penney outlet.
The sale figure met the City Council's minimum requirement and equaled the building's appraised value at the time.
The city purchased the building in 2009 for its then-appraised value of about $875,000 to house Development Services, but moved out in 2011 after the effects of the housing market crash hit home. The City Council hoped to lease the building to a private party to recoup its investment, but the Legislature enacted a punitive property lease excise tax on publicly owned buildings leased for retail purposes.
Fleischmann is currently in the midst of restoring the downtown Hotel Brunswick, which will include a family-style restaurant. The three-story hotel, located at 315 E. Andy Devine Ave., was built in 1909 and measures 12,000 square feet. Its 30 rooms will consist of Cowboy and Cowgirl rooms, Railroad rooms and two Cadillac suites. The hotel is on the National Register of Historic Places.
Also, Fleischmann is renovating the former 2,000 square foot Old Trails Garage at 311 E. Andy Devine Ave. for an ice cream parlor and full-service bakery. The ice cream parlor, called Route 66 Ice Cream and Sweets, Inc., will be run by Brenda Marker, co-owner of B&G Accounting and Tax LLC. Ed and Christina Silverman currently own the bakery, called Route 66 Bakery, and operate it out of their home.
The hotel, bakery and ice cream parlor are scheduled to open at the same time Beale Celebrations will begin operating. So far, said Manley, Beale Celebrations has booked eight tentative events for December, and three definite events with 200-plus guests each are scheduled for February. Manley said several big companies have contacted her for information about hosting their events at the facility.
The building will include a ceiling-mounted projector and large wall screen, dance stage and back room for musicians; bride's room where wedding participants can dress for their event and a catering area for Manley's team.
Manley, who has a catering license, said she looked at the Development Services building when it was put up for sale by the city but she couldn't afford it. She said that when Fleischmann approached her later about a joint venture involving catering and party planning, she jumped at the chance to participate.
"To have a building for catering is a big change for me," said Manley. "And to have this building, which I really wanted, is even better."
Fleischmann, a real estate developer who lives in Switzerland, has been traveling to Kingman regularly for at least 20 years.
During that time, he's developed land here, sold real estate and bought properties and rented them out. He also owns commercial property at 432 Beale St. that houses three small businesses. Fleischmann said he chose Kingman because he loves it.
"When I first came here, I thought the Wild West atmosphere was very nice," said Fleischmann. "And there's Route 66, which is very interesting. This is a different world for me. Kingman is still in a downturn, but there's a high probability it will go back up. Right now, there are a lot of empty buildings, and that's bad. If I can help get Kingman back on its feet by bringing business here, I'm glad to do it."