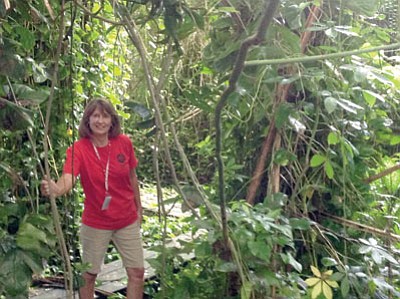 Originally Published: August 1, 2013 6 a.m.
KINGMAN - Barbara McLarty and Anjanette Delgado can't wait to share what they learned over the summer with the new students entering their fourth-grade classes this fall.
McLarty and Delgado, both teachers at Kingman Academy of Learning Intermediate School, spent 10 days in July as researchers at the University of Arizona's Biosphere 2 in Oracle. They were two of 50 elementary and middle school teachers statewide who were invited to the dome to build physics and engineering experiments with everyday materials so they could replicate them in their classrooms.
"I think the kids in our classrooms will be really lucky this year," said McLarty, who has taught at KAOL for six years. "I was really excited when I was selected, because it meant I could help enrich the students in my classroom. This experience provides an avenue to do things that books don't, and being put in the position of a student helps me understand how they're perceiving what we're trying to get across to them."
Biosphere 2 encompasses 7.2 million cubic feet of space and covers 3.14 acres. It contains five ecosystems - tropical rainforest, savanna, ocean, desert and mangrove - that are sealed in a steel and glass structure. The program is sponsored by the Arizona Center for STEM Teachers and funded through a $250,000 grant from the Arizona Public Service Foundation. STEM stands for science, technology, engineering and math.
By using toys and low-tech supplies, said McLarty, teachers can entice students to tackle physical concepts and create their own solutions. For example, McLarty's group was given two hours to develop a way for an action-figure toy to be thrown from a toy truck stationed on a wall and land slowly and safely on the ground.
McLarty said her group, which was composed of teachers she didn't know but had to work intensely with, used a thin plastic parachute, testing and redesigning it three times to come in first with a float time of almost seven seconds. McLarty said it was thrilling to watch the parachute open up and gently guide the toy to the ground.
"We throw kids in groups like this all the time," said Delgado, a second-year teacher who also built a parachute with another group. "And what we thought about it must be what the kids are thinking. The whole experience put us in their place. My first year of teaching, I learned how to keep students motivated and excited, but this program gave us so many books and ideas on how to do it. It really dug deep."
The program, themed "Ebb and Flow," focused on energy, electricity, magnetism and new approaches to scientific methods and research, said Delgado. It was life-changing for her to be able to pick up new information, learn new strategies and meet new teachers. The teachers lived in the biosphere for 10 days and worked from 7 a.m. to 10 p.m. each day.
"This was a wonderful experience and I'd do it all over again," said Delgado. "I had the opportunity to explore, learn new things and be a scientist. There was a tremendous amount of information and I felt overwhelmed as I tried to absorb it. But I'm really glad I went and I think my students definitely will benefit from it."
As one of her projects, Delgado created a bio-bottle, a 2-liter bottle containing water, soil, carbon granules and plants from the biosphere that co-exist together in a self-watering environment.
Delgado said she plans to use the bio-bottle, which was a success and is still living, in her classroom after school begins.
"I've already started collecting bottles for the kids and this is one of the things I learned that I plan to do with the kids," said Delgado. "I loved doing it at the Biosphere and I think it will be neat for my students to build it and see it survive. They'll be able to watch it throughout the school year."
McLarty even got a chance to fail during the program when she made a solar oven that warmed a marshmallow but never cooked it. McLarty said she was able to test the oven and redesign it, but it never toasted well. McLarty said the experience, which she called a "successful failure" because it taught her to keep trying, will help her deal with students who may need time beyond the classroom with a project.
Both teachers said they enjoyed the various presentations by scientists who have done research projects at the Biosphere, especially Jane Poynter, one of the original inhabitants who lived in the dome for two years.
The teachers said Poynter talked about the difficulty of living in an enclosed environment and interacting with her teammates during that time. McLarty said the lesson is useful for future deep space travel where astronauts must live together in small spaces.
McLarty said she appreciated the opportunity APS gave to the teachers by funding their visit and giving them iPads to take home. McLarty said it takes more than book learning to reach today's students, who are used to a hands-on education filled with activities and technology. That becomes even more important as new teaching and testing standards are being implemented this fall with the Arizona Common Core Standards.
"We work so hard as teachers and it's wonderful to have someone understand and step forward to give us what we need to educate the next generation," said McLarty. "If you give me a stack of papers, I can read and understand them. But to live that same information at the Biosphere gives us a chance to show students that what they're learning is applicable to life.
"We got to partake of a wonderful feast there."