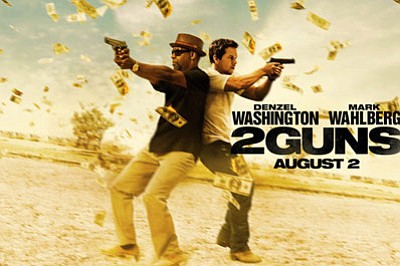 Originally Published: August 4, 2013 6 a.m.
Recipe for a summer flick: Take one Denzel Washington. Add a Mark Wahlberg. Place them in a café serving the best doughnuts in the county across the street from a bank. Add the suspense of a bank robbery and the surprise of what is in the bank's vault. Stir in a host of unsavory characters and wait until the plot thickens. Sprinkle in a little slapstick, some explosive comedy and simmer until well done. Garnish with a beautiful woman (Paula Patton) and serve on a silver screen.
"2 Guns" is refreshing summer fare filled with corruption, lies and deceit with opposing forces from the drug cartels of Mexico, the CIA, DEA and naval intelligence. In the middle of all this are the joined forces of Bobby Trench (Washington) and Marcus "Stig" Stigman (Wahlberg).
So numerous are the twists and turns in the plot of this movie, one is never sure whether Bobby (Washington) or Stig (Wahlberg) are good guys or bad guys until near the end, when they begin to reveal their true identities. Even then they are not able to fully trust one another, nor are they sure about Bobby's lover and colleague, Deb (Paula Patton).
Rounding out the cast are Edward James Olmos as Mexican drug cartel kingpin Papi Greco, James Marsden as Stig's double-crossing naval commander and Bill Paxton, corrupt CIA officer.
Typical of Denzel Washington movies, 2 Guns is complete with plenty of action, shootouts, car chases, and comedy. It has some very "colorful" language at times and some very brief nudity, thus the "R" rating. However, for entertainment value, I believe it still warrants 3-1/2 out of 4 Miners.