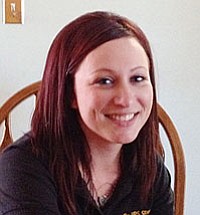 Originally Published: August 7, 2013 6:02 a.m.
Vanessa Kogianes was born Sept. 10, 1984, in Kingman. She lived her entire active life in Kingman, from graduating from Kingman High School in 2003 to becoming the mother of three beautiful children.
Ness had an amazing presence and unique personality that will never be forgotten. She had a love that she passed along through her children and will be felt by all who encounter them. Her strength and charisma will live through her children, family, and friends. Ness's big heart and lust for life were contagious; everyone who knew her will be left with an emptiness that will never be replaced. We will not say goodbye because we know you will always be with us.
Vanessa is survived by her children, Joey Norbert and Dylan Norbert; Joey and Dylan's father, Joseph Norbert; Emma Ellsworth; Emma's father, Brandon Ellsworth; her siblings, Shelby Sinclair (Dyan), Socrates Kogianes (Erica) and Sophia Bailey Kogianes; her father, Michael Kogianes; grandfather, Richard Rosen; and many nieces, nephews, aunts, uncles, and cousins. Vanessa was preceded in death by her mother, Debra Kogianes; grandmother, Ruth Rosen; and aunt, Darlene Rosen.
The celebration of her life will be held at 11:30 a.m. Saturday, Aug. 10, at St. John's Methodist Church, 1730 Kino Ave. with a reception to follow at the same location.
In lieu of flowers, an account is set up through Mohave State Bank for Vanessa's children, No. 0244120056.