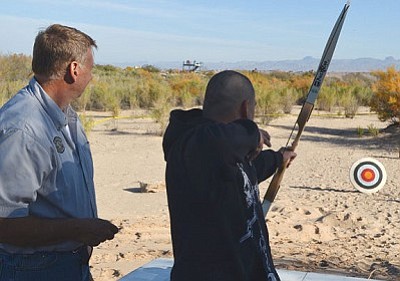 Originally Published: August 8, 2013 1:51 p.m.
KINGMAN - The importance of bows and arrows to the story of humanity will be discussed Friday when the Arizona Game and Fish Department's Summer Wildlife Series concludes with the History of Archery.
"Archery has played a critical role throughout history," said Zen Mocarski, the information and education program manager for the Game and Fish Region 3 office in Kingman.
"It has been important in hunting, warfare, and today it is a popular sport and hobby."
Jeff Pebworth, the wildlife program manager in Region 3 and an avid outdoorsman and archery collector, will conduct the presentation.
"His primary concern is condensing volumes of information into a relatively short presentation," said Mocarski. "There are thousands of years of history with archery to examine."
The program begins at 6:30 p.m. at the Kingman Mohave County Library, 3269 N. Burbank Street, and will last about 45 minutes with 15 minutes set aside for questions.
The program is free, but seating is limited to the first 51 people. This will be the last in the six-part series that began in May.
Mocarski said Game and Fish plans to resume the wildlife program next summer and he encourages people to send him possible topics at zmocarski@azgfd.gov.