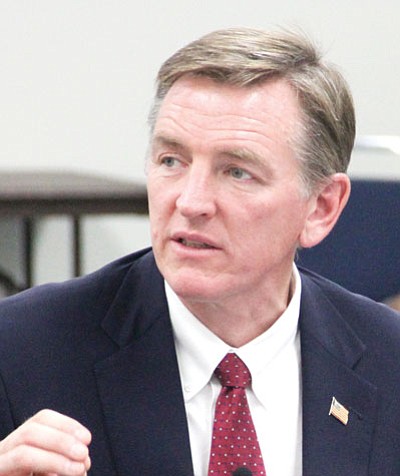 Originally Published: August 8, 2013 6:02 a.m.
KINGMAN - Rep. Paul Gosar, R-Prescott, reached out to local educators and parents at a roundtable meeting at Mohave Community College Tuesday afternoon for creative ways to fix the state and nation's education problems.
"There's been a nearly 81 percent increase in college tuition. Medical students are finding themselves $300,000 in debt after school. We need to address this. We need some creative options," Gosar said.
"And what about after college?" he asked. "Are there jobs for these students? Nearly 12 million people are out of work and 2.8 million jobs are unfilled because employers can't find employees with the skills they need. Are students graduating with the skills employers need? Can they pass a drug test?"
The U.S. Bureau of Labor Statistics confirms Gosar's statements.
There's just too much bureaucracy in the system, he said. A one-size-fits-all education system does not work.
Gosar said he wanted to give local communities more flexibility in how they educate their children. He and several other congressmen are trying to dismantle many of the provisions of the No Child Left Behind Act and scale back federal involvement in education.
Betsy Parker, the superintendent of the Western Arizona Vocational Educational Joint Technical Education District, pointed out that businesses need certified technicians as well as college graduates. She suggested funding for technical programs such as the ones provided by WAVE-JTED.
"A lot of the students leaving our program are more prepared for the workplace than I was when I graduated," Parker said. "They also have one of the quickest repayment of loans rates."
Lake Havasu City Schools Superintendent Gail Malay suggested raising teacher salaries in Arizona to make them more competitive with the salaries of other states.
"The No. 1 factor in a student's achievement is teachers. Arizona is losing brain power in education because of salaries," she said. "We can only attract what we can pay for."
Her district managed to hire two great science teachers last year. They were gone by the end of the year because they had gotten better offers in other states.
"One got a $6,000 raise," she said.
Districts also need more funds to help students who move into districts catch up with their peers and to keep smart kids engaged, Malay said.
"We want to be part of the change, but we need help with math and science. We need support, love and kindness," she said.
Kingman Unified Schools Superintendent Roger Jacks asked if Gosar thought the U.S. House of Representatives' education bills to dismantle the No Child Left Behind Act would pass the U.S. Senate.
The House and the Senate are pitted against each other and they shouldn't be, Gosar said. There are plenty of people in both houses who want to work together, but can't because of the current animosity between some members of both parties, he said.
Gosar also said he was trying to get more of the money that the federal government collects from the use of federal lands in the state pushed back to the states to help fund education.
Nearly 60 percent of the land in Mohave County is owned by either the state or federal government.
Those lands were set up with the idea that the proceeds from their use would be used to fund education, he said. More of that money needs to go into state education coffers and less into the federal government's coffers, he said.