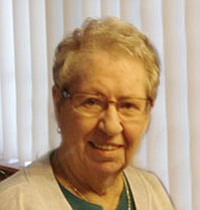 Originally Published: August 8, 2013 6 a.m.
Kay Blanton
Kay went to live with the Lord on Sunday, Aug. 4, 2013. She was 94 years old.
Kay was born Sept. 29, 1918, in Steuben, Maine, to the late Alvah Morse and Bertha Hodgkins Morse. She was preceded in death by her husband, Clifford Blanton; sister, Vera Farrin; and son, Richard Smith.
She was a self-taught bookkeeper and worked as an automotive bookkeeper all her life. She moved from Connecticut to California in 1957 for health reasons. She retired at the age of 65 and moved to Kingman in 1982, where she met her late husband, Cliff.
Together they traveled all over the United States in their camper. If they were not traveling, they would be on their pontoon boat fishing.
She was a devoted mother and friend. She loved watching her Arizona Diamondbacks play ball.
She is deeply missed by her daughters, Carolyn Bushey of Kensington, Conn., Donna Boyett (Bill) of Kingman; her stepson, Michael Blanton (Diane) of Kingman; and stepdaughter, Linda Alston of Inglewood, Calif.; her grandchildren, Kathy Spencer, Richard Bushey, Brian Bushey, Jeff Bushey, Tina Burford-Otis, Corinna Hubbell, Kathy Greenawalt, Brian Crum, Kim Gross and Bill Boyett. She had 12 great-grandchildren and five great-great-grandchildren.
A celebration of life will be held at a later date with family and friends.
Rest in Peace, Mom, until we meet again. We love you.