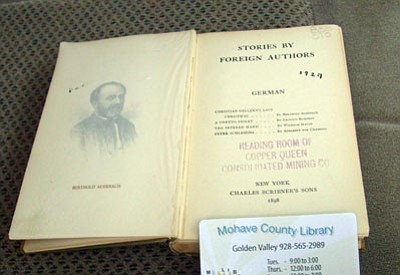 Originally Published: August 8, 2013 6 a.m.
GOLDEN VALLEY - Members of the Friends of the Golden Valley Library didn't have to think twice about the final destination of a book stamped "Reading Room of Copper Queen Consolidated Mining Co." that came in recently as a donation for the organization's book sale.
Carole Anderson, communications and public relations officer for the Friends, immediately emailed best-selling mystery writer J.A. Jance to see if she would like to have it. The book is an 1898 edition of "Stories by Foreign Authors German" and contains four stories. It has a loose page, but otherwise is in good condition, bearing a "Special Collection" sticker on its back.
The Copper Queen Consolidated Mining Company was once a major copper producer in Cochise County, where Jance lived and set her Joanna Brady mystery series. In Jance's books, Brady was elected sheriff of Cochise County after her husband was murdered while running for the same office, which her father once held. The connection between Jance, her background and the characters she created for the series led the Friends to think of the author when they discovered the old book.
"As we all know, Sheriff Brady's father worked for the mine at one time, so we wondered if you would be interested in having it as a gift," emailed Anderson to Jance. "Your series is quite popular at our library."
Anderson couldn't have been happier when Jance, who was out of the country, emailed back to say she would love to receive the book. Jance said she grew up in Bisbee, near the mine's location, in the 1950s and '60s and there was no bookstore in town. But there was a public library, said Jance, which "fed someone who was and still is a voracious reader."
In an email to the Daily Miner, Jance said the public library she frequented so often was called the Copper Queen Library and started out as the Copper Queen Consolidated Mining Company Reading Room. Jance said the books she read there under the watchful eye of the librarian, Mrs. Howe, helped form her ambitions to become a writer.
"Having that book from the Friends of the Golden Valley Library will be like having a touchstone from those old days and I'm honored that they thought of me when it came into their hands," wrote Jance.
The Friends will be sending the book to an address provided by Jance. Also, they will include a Golden Valley Library bookmark, magnet and information about the library in case Jance visits the area and wants to stop in to greet them.
"We thought it was a nice thing to give the book to her," said Jerlyn Hagar, president of the Friends, which has about 30 members. "She grew up there and has a series set in that area. The book is old, unusual and has a special significance for the author, so we're glad to send it along to her."
More like this story