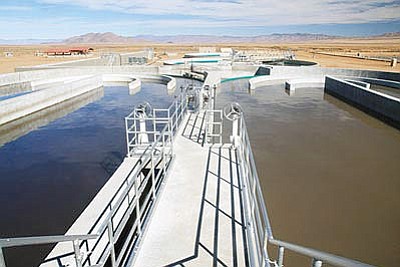 Originally Published: August 9, 2013 6 a.m.
KINGMAN - When Kingman expanded its wastewater treatment capacity by upgrading and enlarging two existing facilities a couple of years ago, the red tape of bureaucracy grew as well.
The City Council on Tuesday held a public hearing and ultimately approved the City of Kingman Sewer Pretreatment Ordinance.
According to City Engineer Greg Henry, such ordinances are required when publicly owned sewer facilities treat more than 5 million gallons per day.
The $35 million upgrade to the Hilltop Treatment Facility increased treatment capacity from 3 million to 5.1 million gallons per day.
The new ordinance amends local utility regulations to reflect the new standards and limits of discharge. The purpose is to reduce the potential threats posed by commercial discharges to the city's collection system.
It also includes an enforcement response plan that includes fines for violators ranging from $1,000 per day to $25,000 per day, per violation.
The guidelines in both the ordinance and the enforcement plan were modeled on recommendations from the Environmental Protection Agency.
City Engineer Greg Henry said the ordinance deals with heavy water users or manufacturers, not domestic customers.
"Hopefully, no one has to worry about it," Henry said. "The ordinance is geared toward industrial users such as those at the Kingman Airport Industrial Park. It is also directed at users who discharge more than 25,000 gallons per day into the city's wastewater system."
Henry said businesses that will be affected by the ordinance, such as restaurants and auto repair outlets, are aware of the requirements.
"The ordinance prohibits grease and oils from entering the wastewater system, so food service facilities and vehicle service facilities will have to comply with the ordinance. This is not new for them, as food and vehicle establishments have been required to install grease and oil separator traps for quite some time."
The city is able to determine the origin of pollutants that enter the system based on information contained in the wastewater discharge permits.
Fortunately, said Henry, there are no businesses hooked into the system that have not followed regulations.