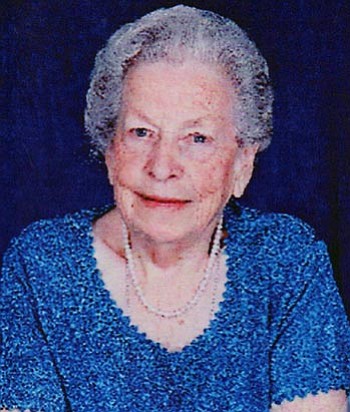 Originally Published: August 11, 2013 6 a.m.
Rebecca "Gertrude Stoker" McAdoo, born Feb. 8, 1919, went to heaven Friday, July 26, 2013, at age 94. She was born in Texas and settled in Ramona, Calif., when she was in the seventh grade.
She married Eugene Tozer and had two sons, Charles (deceased) and Samuel of Arizona. Some years later, she married Robert Petersen and had another son, Robert of California. Then, years later, she married Mr. McAdoo.
She is survived by her sister, Irene Ribaudo of Lake Havasu; sons, Samuel Tozer and wife, Mary, of Kingman and Bob Petersen and his wife, Lynn, of Folsom, Calif.; four granddaughters; two step-grandchildren; 16 great grandchildren; and two step-great-grandchildren.
When Gertrude retired, she moved to Arizona, but had a very long history in Ramona. When very young she became a hairdresser and owned her own shop, first in San Diego, then in Ramona. At age "forty something" she went back to school and got a degree in teaching.
She taught seventh and eighth grades at Ramona Junior High School for many years. She was a multi-talented woman. After retiring from teaching, she opened a ceramic shop, "The Clay Pot," in Ramona until she was 80 years old, then retired for good.
There will be a private family memorial service in October. The family plans to take her ashes out on a boat at San Clemente, Calif., and scatter them where her son Chuck went down in a helicopter approximately 46 years ago; this was her final wish. After the service, we will all gather at granddaughter Kay Kattke's house in Ramona for food and remembrance. Any friends of Gertrude or the family who would like to join us at that time, please call Sam and Mary at (928) 303-4423 or (702) 544-1627.
Gertrude is with her Lord now with her perfect and new body, no more pain, and she is at peace.
Both sons Sam and Bob and their wives would like to thank everyone for all your many prayers and visits to hospital and the assisted living place where she lived since March of this year, especially Pastor Denis Cronkright, Deacon Harry Stamper, and Sam and Mary's dearest friends Jim and Bunny Reppert, and especially niece Tricia Pogue, who drove from California to Arizona to be with Bob during the most difficult time.