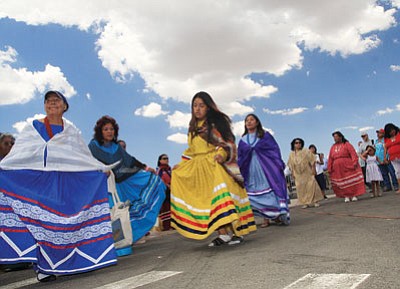 Originally Published: August 13, 2013 6:02 a.m.
KINGMAN - Grand Canyon Resort Corp. has finally decided it's time to share.
Not only is the company now providing information about events and filming at its tourist destinations, it's also referring participants in those activities to Kingman so they can dine, stay in hotels and purchase items here. In short, the company has decided to join hands with the city for the good of both entities.
"We've changed our business model because of new leadership," said Dawnielle Tehama, the company's marketing manager. "We're taking a different approach this year and are seeking a lot more community interaction. We have a lot of people coming through and we are referring them to Kingman now. We're a firm believer that if you support the local community, you're supporting yourself."
Grand Canyon Resort Corp. is owned by the Hualapai Indian tribe and includes Hualapai Lodge, Hualapai River Runners rafting company and Grand Canyon West, which features the Grand Canyon Skywalk. It is a glass, horseshoe-shaped bridge that enables visitors to walk beyond the canyon walls, suspending them 4,000 feet above the riverbed and providing a panoramic view of the gorge.
The new leadership is Jennifer Turner, who became the company's chief executive officer in October. Turner brought in Tehama as marketing manager in February and the two moved quickly to build new relationships with leaders and businesses in Kingman. They also shared their calendar of events, which includes several filming dates and an international fashion show at the Skywalk.
About 20 cast and film crew members from the British Broadcasting Company will film an episode of "Nina and the Neurons" on Aug. 19 at Eagle Point and the Skywalk. The 15-minute program, made by BBC Children's Scotland, is aimed at children 4-6 years old and focuses on the five senses. The episode will explore what the Grand Canyon is and how it was formed.
On the same day, German film company Constantin Entertainment GmbH will film part of a documentary focusing on a German family of six who are traveling across the U.S. with a host family from the East Coast. Tehama said the documentary, which includes the family's visit to Grand Canyon West, will be aired in Germany to promote tourism here.
The cast and crew from both productions will be staying in Kingman during the filming, said Tehama. In the past, workers often stayed at Hualapai Lodge, she added.
And on Aug. 20, a film crew from J Model Management will make a site inspection at Grand Canyon West in preparation for the international J Autumn Fashion Show, set for Nov. 1 at the Skywalk. The show will premiere haute couture and high-end ready-to-wear collections from more than 20 countries in five continents. It will be filmed from helicopters and across the bridge and televised worldwide.
Founder Jessica Minh Anh is known for setting fashion shows at unusual locations, from the London Tower Bridge in England and a sundeck catwalk at Costa Atlantica in Dubai to a floating catwalk on the Seine River in Paris. J Model Management will film part of a documentary in September called "The Making of the World's Most Unique Catwalk," which includes the Grand Canyon West Skywalk.
The Hualapai tribe is working to create a film commission, said Tehama, because it has been contacted by a number of companies, including CNN and MTV. Tehama said Grand Canyon Resort Corp. is currently in negotiations with The Tonight Show with Jay Leno for him to bring his hose cam to the Skywalk, where he would ask questions and hose participants if they answer incorrectly.
"It's been pretty busy out here and we've done a ton of production but people haven't known about it," said Tehama. "That's changing. And the people I've talked to about it are excited and anticipating great things with the change. They all agree it will be lucrative for Mohave County, Kingman and the Hualapai tribe. We'll never be Hollywood, but it sure would be nice to have a piece of that pie."
Tehama said Grand Canyon Resort Corp. is working with Joshua Noble, executive director of tourism for the Kingman Visitor Center, to create informational packets for cast and film crew looking for places to stay and eat while working at Grand Canyon West. Noble said he is excited about the new arrangement and pleased for the city to be part of it.
"What Grand Canyon Resort Corp. is doing gives Kingman potential exposure and it brings business here," said Noble. "Right now, the impact is still small but it could lead to bigger and better things for the city."