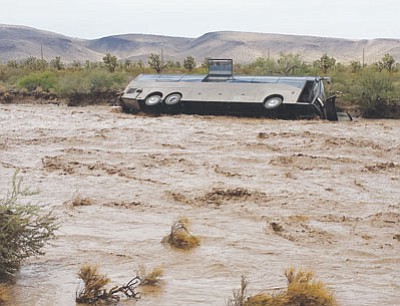 Originally Published: August 13, 2013 3:16 p.m.
KINGMAN - The driver of a nearly full tour bus that rolled on its side while trying to cross a flooded wash on Pierce Ferry Road July 28 faces misdemeanor charges of reckless driving, according to Mohave County Sheriff Tom Sheahan.
If the driver is convicted, Sheahan said his office would move to have the driver prosecuted under the so-called Stupid Motorist Law.
Joseph Razon was sent a summons to appear at a court hearing in Kingman Justice Court at 10 a.m. Sept. 10, said Sheahan.
Thirty-three people on their way back to Las Vegas after visiting the Grand Canyon Skywalk were on board the luxury bus when Razon attempted to cross the flash-flooded wash, which carried enough force to rip the asphalt off of the road as it crossed near milepost 16.
The bus tipped on its side and floated about 300 yards before it came to rest at a 45-degree angle.
Nobody was injured. The driver, tour guide and passengers were able to step onto dry land upon exiting the bus' emergency exit windows.
The driver reportedly attempted to cross after seeing a passenger car make it safely across, a statement at least one local official has a hard time believing.
Patrick Moore, Northern Arizona Consolidated Fire District chief, said at the time it was unlikely any vehicle could have made it across.
"I have trouble believing that," said Moore in a July 29 interview. "I have a hard time believing a small car could make it through."
Moore said the pavement on Pierce Ferry Road had been washed away and water was 6 to 7 feet deep in some areas.
The flash flooding was intense and carried along mud, rocks and other desert debris that wasn't visible to motorists.
While there were no injuries, the response from emergency service providers was intense.
Along with the NACFD, other responders included the Lake Mohave Ranchos Fire District, Kingman Fire Department, Care Flight Air Ambulance, River Medical/AMR Ambulance, National Park Service and the Mohave County Sheriff's Office.
The Stupid Motorist Law is an Arizona statute that calls for any motorist who becomes stranded after driving around barricades to enter a flooded stretch of roadway to be liable for the cost of their rescue. An additional $2,000 fine on top of rescue costs could also apply.
Bessy Lee of CHD Tours told the Miner in late July that Razon did everything "absolutely right."
"He stopped and checked the road," said Lee, the company's marketing and brand director. "He saw the passenger car go through the wash and even the passengers and tour guide said it should be OK to cross."
Lee instead blamed Mohave County officials for not having emergency workers at the flood site to warn motorists.
"You'd think the authorities would be out there to tell people to please be careful. There were no warnings," she said on July 29.
The new bus, which Lee valued at $600,000, was destroyed.