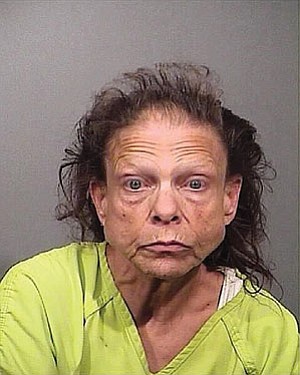 Originally Published: August 14, 2013 6:03 a.m.
GOLDEN VALLEY - A 58-year-old Kingman woman led sheriff's deputies on a chase that began on Navajo Drive in Golden Valley and ended on Andy Devine Avenue in Kingman.
Diane Lynn Olaizola faces felony charges of aggravated assault and unlawful flight from law enforcement.
The Saturday incident began at about 8:40 p.m. when a caller reported a suspicious motorist in a blue Hyundai who "accelerated toward her" when she attempted to speak to the driver, who had parked at a vacant home near her residence in the 5300 block of Alexandrite Road.
Responding deputies spotted the blue Hyundai on Navajo Drive and attempted to conduct a traffic stop, but Olaizola allegedly didn't stop until she reached Oatman Road - and that was just temporary.
Deputies said she "sped off" as they approached Olaizola's car, which traveled east on Interstate 40 until she exited at Andy Devine Avenue.
Olaizola stopped for good on Castle Rock Road near Swan Drive, where she was taken into custody without further incident.
Olaizola told deputies she was waiting to meet a real estate agent regarding renting the vacant home on Alexandrite Road, according to Mohave County Sheriff's spokeswoman Trish Carter.