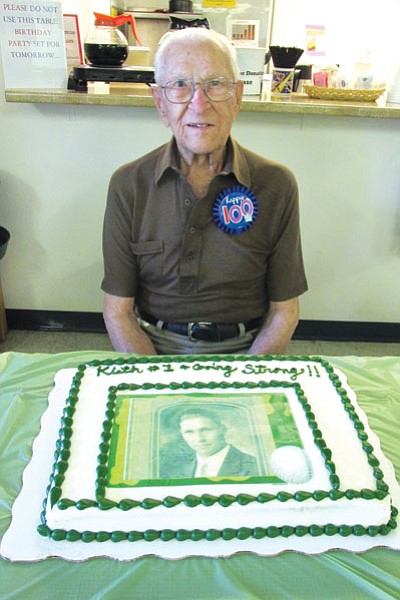 Originally Published: August 15, 2013 6 a.m.
KINGMAN - Jackie Graves doesn't mind that her Pinochle partner turned 100 years old this week.
Kieth Walker, a Kingman resident for two years, reached the century mark Tuesday. The three other members of his Pinochle group - Graves, Diane Lane and Lola Landrum - threw a surprise birthday party Wednesday for Walker, complete with a cake featuring a rendition of his high school graduation picture, at the Kathryn Heidenreich Adult Center in Kingman.
"Kieth started coming here to play at the other table in December, but sometimes they didn't have an opening and we did, so I asked him to join us," said Graves before the start of their twice-weekly game. "I enjoy his company and he's a very good player. He's always here when it's time to start. I think he's pretty sharp and I'm glad he's here."
Born in Nelson, Neb., Walker moved to California when he was 10 years old with his father, who got a job there. Later, they relocated in Republic, Kan., where Walker's father farmed for his grandmother. Walker began attending high school there in 1929, the year the Great Depression started, and graduated during the Dust Bowl years in the early 1930s.
The Dust Bowl was a period of severe dust storms caused by extensive damage to prairie lands from overplanting, drought and wind erosion. At times, immense dust clouds blackened the skies and blew all the way to the East Coast. Walker said he remembers leaving black footprints in the soil as he walked while the ground around him was red from the red dirt blown in from Oklahoma.
"The going wage for a job was $1 a day," said Walker. "But I couldn't find a job there, so I jumped a freight train and ended up in Ventura County, Calif. I found a job within a week putting canvas sheets over orange and lemon trees so they could spray for red and black scale with cyanide gas. The trees had to remain covered for 45 minutes so the scale would die."
That job continued for about two years. Then Walker moved on to other jobs, including irrigating on a ranch, hauling oranges and moving cement, all in California. Walker retired in 1978 after driving bulldozers and other heavy equipment for the Imperial Valley Road Department in Brawley, Calif. When his daughter, Tamara Devault, moved from there to Kingman, he joined her.
Walker was married for 30 years to his first wife, who died in 1969, and 29 years to his second wife, who died in 2000. His other daughter, Dorothy Stecler, lives in Hawaii but is visiting Kingman for her father's birthday.
Life has consisted of many changes over the past 100 years for Walker, who bought his first car, a Model T Red Racer, for $4. Walker said the car peaked at 35 miles per hour, but it was faster than a horse and buggy, which his parents owned during his childhood. Walker also remembers the introduction of television, a device his family eagerly awaited. They installed their first antennae on a telephone pole.
Another vivid memory for Walker is the banking crisis of 1933, where banks were temporarily closed by President Franklin D. Roosevelt for a "bank holiday" to stop a run by depositors trying to pull out their money. Walker said he was a high school senior then and was riding a horse home from school when he met up with his father, who showed him an I.O.U. for cream and eggs he had sold on the day the banks closed.
"It's amazing all the things that have happened during my lifetime," said Walker. "I've seen everything from the dust storms to our country sending guys to the moon. I've witnessed a lot."
Some of those events were later explained to Walker in a history book his mother bought him in 1964 for his birthday. Walker said he learned that when he left Republic on July 15, 1934, for California, the hottest day recorded in town was two days earlier at 113 degrees. He also learned that eggs sold for seven cents a dozen then, and hogs went for two cents a pound.
In December 2011, Walker was told he has cancer in his lungs, bones and the lining of his stomach. While he takes a pill to help his stomach, Walker has not undergone chemotherapy. In fact, his doctor has told him that he looks better than some of her patients who are 40 years old.
"I've had people ask me how I've managed to live so long," said Walker. "I told them that I've always worked hard and had a drink every night. In fact, I had a friend who lived to be 103 years old and he had two drinks every night. I've had a good life and I hope to live a lot longer."