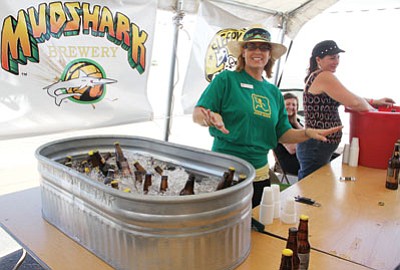 Originally Published: August 15, 2013 6:01 a.m.
KINGMAN - As residents and 4-H kids gear up for the annual county fair in September, the Mohave County Board of Supervisors is still waiting for a business plan from the Mohave County Fair Association Board of Directors.
Board Chairman Gary Watson has been asking the association for more than a year to present a business plan to the supervisors. He has yet to see one, he said Wednesday.
The Board of Supervisors approved a $50,000 grant to the association on April 1 with the condition that it match the grant with $50,000 of its own money and provide the county with a short- and long-range business plan. Watson said the association has not used any of the grant money.
Charles Cox, the chairman of the association's board of directors, said the association is working on a business plan and has scheduled a meeting with a representative from Mohave Community College's small business development program to develop it.
"Right now we're reviewing (business plans from) county fairs from Arizona to Michigan to see how they do things," Cox said. "I don't know when the plan will be done. These things take time. We have to figure out our short- and long-term goals."
The association has made a lot of progress in repairing and cleaning up the fairgrounds over the last year.
The grandstands and the press box have been painted and repaired, most of the old horse racing track rail has come down and the grounds are cleared of trash and debris on a regular basis. Local 4-H kids also helped clear brush, scrape off old paint and repaint the ticket booths. There are plans to fix the electrical systems in some of the buildings, add bathrooms and repair or replace the rodeo arena.
A BMX track is currently under construction near Interstate 40 and a paintball field is scheduled to be built nearby before the end of the year.
The number of events held at the fairgrounds has also increased over the last year, including numerous motorsports races and events, public auctions, Cornerstone Mission's Third Annual Diva's Night Out, scramble car racing, a family fun day and a beer fest.
On some weekends, more than one event has been going on at the fairgrounds at the same time, Cox said.
For example, this Saturday the grounds will host a motorsports event, the annual 4-H animal weigh-in for the county fair, an auction by DePuy's Auction Service and a dinner for the Girls and Boys' Club.