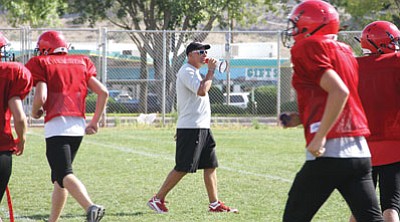 Originally Published: August 16, 2013 12:22 p.m.
KINGMAN - Shifting to varsity-level football can do wonders for a program wanting to grow out of its infancy.
Expectations start heightening. Everyone is ready to step onto the field. Then again, one may argue you have to prove yourself and to everyone else that you earned the opportunity to compete at the next level. Entering its second season overall, Lee Williams football is ready for the challenge.
"The kids are excited because there's a goal at the end of the tunnel, the end of the season. That makes a huge difference," Volunteers head coach Eugene Kramer said. "I'm sure people are expecting us to get out and do well. It's going to be a tough road ahead of us, but we're going to do everything we possibly can to fulfill those expectations."
A team of freshmen and sophomores, Lee Williams doesn't anticipate having a player that will rack up the big, gaping numbers on the stat sheet. Coach Kramer expects a team effort, meaning anyone will have a shot to contribute. Still a relatively new program, they're also mindful of the future.
"We have a lot to play for here at Lee Williams. We have a lot of families that have invested a lot in this school," Kramer said.
The past couple of months, Kramer has seen growth. No matter what the end result to this upcoming season will be, that won't detract from the hard work the players put into their off-season regimens.
"We've been really proud of them this entire preseason," Kramer said. "They've put in a lot of work in the summer with their weight training, their summer running program. They can see it's starting to pay off. We're going to play our hardest."