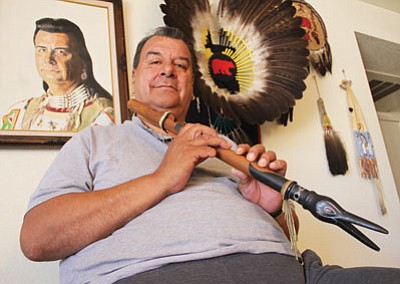 Originally Published: August 18, 2013 6 a.m.
KINGMAN - For much of his life, Robert Tree Cody has lived in the shadow of his famous stepfather.
Cody and his brother, Arthur, were adopted as children by Iron Eyes Cody, the actor who portrayed the crying Native American chief in the Keep America Beautiful campaign in the early 1970s. Iron Eyes Cody appeared in more than 200 westerns with John Wayne, Dan Blocker, Steve McQueen and Richard Harris, as well as in numerous television shows.
As a child, Robert Tree Cody often accompanied Iron Eyes Cody as the man acted in movies in Hollywood for Universal, Warner Brothers and Disney. There, the boy hobnobbed with the likes of Bob Hope and Walt Disney. Cody also acted in six Disney movies and performed on Western Days with the original Mickey Mouse Club.
"I've had an interesting life, that's for sure," said Cody. "We lived in Los Angeles when I was young and I got to see a lot of things in Hollywood. I used to walk around Universal Studios and look at things and talk to people. I liked it and I wanted to be in the movies, too, but it's difficult because it's the politics of who you know and not what you can do as an actor."
Instead, Cody, a Maricopa-Dakota Native American whose traditional name is Red Thunder Bear, has carved out a life of his own as a flutist, singer, dancer and educator. A well-known performer at pow wows throughout the West, the 62-year-old moved to Kingman almost four months ago from Navajo, N.M., to be closer to Grand Canyon West, where he gives flute seminars, and the city's Amtrak station, which takes him to performance locations.
The 6-foot, 10-inch self-taught flutist has made a name for himself with 14 albums of haunting music, of which 13 were produced by Canyon Records in Phoenix. His 2007 album, "Heart of the Wind," included percussionist Will Clipman and was nominated for a Grammy award, although it didn't win. Cody and his wife, Cynthia Osife-Cody, attended the awards ceremony in Los Angeles.
His album "Native Flamenco," including Flamenco guitarist Ruben Romero, won two Native American Music Awards in 2000, and the album "Maze" won best new age album at the 1999 Native American Music Awards. Cody, who began playing the flute when he was 5 years old, is currently working on a new album of flute music and hopes to release it soon.
Cody also expresses his love for Native American music and culture through Native Wisdom, a group he and his wife formed about seven years ago that includes family and other professional dancers. Dressed in colorful tribal garb, the group performs regularly at Grand Canyon West, as well as a variety of venues, displaying jingle, fancy and chicken dances. Cody sings, tells stories and plays the flute during each event. Native Wisdom is scheduled to perform Sept. 11-15 at the New Mexico State Fair in Albuquerque.
The Native American pow wow circuit also has been close to Cody's heart, and he traveled it extensively from the 1950s through 1970s as a traditional and fancy dancer. These days, Cody serves as an arena director and master of ceremonies at pow wows throughout the West.
And he was recently chosen, along with his cousin, Norman Roach, to serve as a technical advisor for the upcoming feature film, "Dance Hard," which begins production in 2014.
The movie tells the story of two young Native American men who go on the pow wow circuit to win money for college, Cody said he has seen the evolution of pow wows over the years - from dancing for elders to dancing for prize money - and wants to make sure the movie is historically accurate.
Cody also encourages Native Americans to live and share their culture by giving motivational speeches on reservations in the United States and Canada. He has lectured at many museums, schools, universities and colleges. Cody said it is important to keep the Native American culture and language alive so its youth feel connected to their past.
"It's like preserving anything else, from the Revolutionary War to political figures," said Cody. "Americans have those things they remember, and we have wars and important chiefs that we honor. A culture without a language is lost, and that's why we have storytellers and dancers. It's about keeping the traditions and history of our people alive. We are Native Americans and we're here to stay."
Click for home delivery with comics, grocery deals, inserts, TV listings, coupons and more