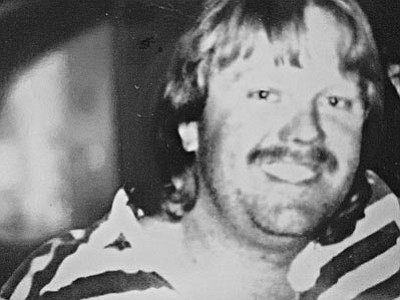 Originally Published: August 20, 2013 6 a.m.
KINGMAN - Susan Barbour wishes she never dialed 9-1-1.
With every single fiber of her being, she wishes she never picked up the phone.
But she did.
Now deep stabs of guilt compete for her attention with wave after wave of grief over her dead son, who was shot multiple times and killed by a Mohave County Sheriff's deputy early Friday morning.
The mother of Blake Barbour struggled to maintain her composure in an interview Monday as she recounted the events that led to her son's violent death.
According to Barbour, her 43-year-old son was shot four times by veteran Mohave County Sheriff's Deputy Jace Reif after he yanked away the deputy's baton. Reif used his baton after several shots from a taser failed to subdue Barbour.
She said she doesn't hate the deputy, but she questions the decisions he made that morning and she is shocked a lone deputy would respond to a domestic violence call.
In fact, Barbour believes if even one more deputy had been on scene, her son would still be alive.
"Blake needed help," she said. "I thought maybe the police could help us. He was acting erratic, but he was not hurting anyone."
Later, she acknowledged that her son dragged her to the ground and that's what prompted her to call law enforcement. She insists he never hurt her, but she concedes she was afraid he might as his behavior had become increasingly unpredictable in recent months.
Still, she questions a policy that calls for a single deputy to respond to a domestic violence in progress.
"I do not understand why only one deputy was sent and will never understand until the day I die. I used the word violent on the phone because I wanted them to know it was serious. When someone comes 25 minutes later, it's one small deputy."
Blake Barbour had no criminal record to speak of, she said. He was convicted of a DUI "ages ago" and also had a domestic violence arrest in the distant past. She admits, however, that his behavior could be attributed to drugs. She said deputies searched her home on Friday and no drugs were found. A mirror "with nothing on it" was seized, she said, but that was all.
"He's had his bouts with drugs and so drugs are a possibility," she said, but his behavior never became unpredictable until he contracted meningitis a few months ago.
"He was never the same after that," she said. Meningitis can cause negative changes in behavior, according to the National Library of Medicine.
One thing she's certain of is that her son had not been drinking and he had not been up all night.
He awoke early to work on a car and was welding when he started acting odd. He jumped into an aboveground swimming pool fully clothed and had stripped out of his clothes when the deputy arrived.
"That couldn't have helped the situation," said Barbour. "He was naked and that had to seem very strange to the deputy."
Barbour, 63, and her mother, Billie Jean Griffith, 87, live next to each other in homes on two lots converted to one on Packard Avenue, off of Bank Street and north of Northern Avenue.
That morning, she called police from her mom's house. She said it took about 25 minutes for Reif to arrive.
"I met him at the gate. I told him Blake was not himself, that he was acting strange," she said.
Susan Barbour was surprised when Reif told her he was aware of her son's mental state because he had given him a ride just the day before.
"He said Blake said some crazy things on Thursday."
In any event, the situation went from bad to worse in no time at all, said Barbour.
"Blake was still mad. He told the deputy he had to leave, but the deputy ordered him to the ground and when Blake refused he tased him over and over, but Blake was strong like a bull and he only went down once, and got back up."
She admitted Reif ordered her son to stay down several times.
"I saw him hitting Blake with the baton and I saw Blake take the baton away and then he shot him. At first I thought he was using rubber bullets, but they were real ones. I think he shot him four times. I could see the bullet holes, but they wouldn't let me go to him."
Barbour hugged herself and fought back the tears as she asked, "Why didn't he wait for backup? The deputy is a small man and Blake was 6-foot and 220 pounds. He was so much bigger than the deputy and the deputy knew that."
Barbour said she was hurt by mean-spirited comments Miner readers posted under the story about her son's death, and she wanted to set the record straight.
"My son was not a drug addict," she said. "He was not an alcoholic or a violent person. He was a beautiful child and a good baby."
Susan, a retired flight attendant, said her stories of seeing the world fascinated her son. He had an interest in Asia and recently returned from Thailand about three weeks ago. Last year, he spent a couple of months in Hong Kong.
An electrician by trade who previously worked at the proving grounds in Yucca and at several big projects in Las Vegas, Barbour was divorced and had no children.
"He had a good heart," she said. "If he only had five dollars and somebody needed five dollars, he'd give it to them and go without eating."
Barbour looked at an 8 by 11 photograph taken shortly after her son was born on April 22, 1970. It's a black and white photo of a happy, smiling baby boy. She hugged herself so hard it looked like she was trying to bear hug herself into unconsciousness.
"I'm so sorry I called the police," she wailed. "I want people to know what a good person he was. He wasn't a bad person like some are saying. I watched him die and that's an image I can't get out of my mind ... I feel so cheated."
Reif is on paid administrative leave. Lt. Steve Smith with the Bullhead City Police is investigating the shooting at the request of Mohave County Sheriff Tom Sheahan in order to avoid the appearance of impropriety.
Blake Barbour's autopsy was conducted Monday.