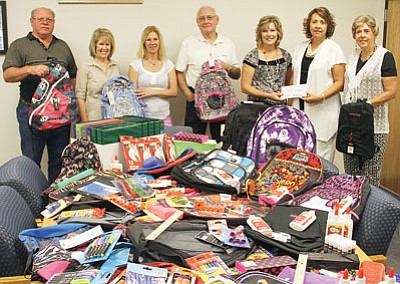 Originally Published: August 21, 2013 6 a.m.
KINGMAN - A wave of color swept over the city's two school district offices Tuesday as Mission Bank employees delivered truckloads of items collected and bought during its annual school supply drive.
Pink, red, purple, green and gray backpacks sat on the floor while colored pencils, highlighters and markers lined the tables. Nearby, pencil boxes with pink lids rested next to blue Transformer lunch boxes and multi-design notebooks. New school shirts of maroon, blue, black and orange hues were surrounded by hand sanitizers, glue, calculators, scissors, pens and book covers.
Mission Bank brought the supplies to Kingman Unified School District and Kingman Academy of Learning after its "Our Town Cares" drive for needy school children recently ended.
Now in its 11th year, the drive has collected more than $70,000 in money and school supplies since it began. This year, the bank received $9,200 in school supplies and money, which it used to buy school uniforms.
"When the bank opened, it was decided that everything we do here would go to the local community," said bank president Darrell Lautaret. "School supplies for underprivileged children was the need that was identified then, and our drive has grown every year.
"It makes me feel really proud to be part of a community that rallies behind a cause like this."
At KUSD, Superintendent Roger Jacks watched eagerly as boxes of school supplies were carried into the school board room and unloaded. Jacks said the need for school supplies is great for the district's students, of whom 60 percent qualify for free or reduced lunches this year.
"What this means is that a lot of needy children out there will now have school supplies," said Jacks. "Once again, our community has done a fantastic job of meeting this need by supporting Mission Bank's school supply drive. It's really nice that everyone has done this."
Susan Chan, district administrator for KAOL, said she appreciates the annual donation of school supplies, which has been coming for several years.
Chan said it is important for students to have adequate tools to work with as they start the new school year.
"I'm full of gratitude for the bank organizing this drive again and the community supporting it," said Chan. "We always make sure our kids have what they need for school and this really helps. It keeps us from having to purchase the supplies ourselves."