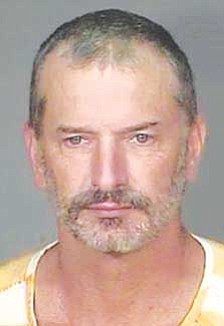 Originally Published: August 21, 2013 5:13 p.m.
ALBUQUERQUE, N.M. (AP) - The pile of ash and twisted metal looked like what was left of a travel trailer, but a New Mexico sheriff testified Wednesday he had no idea when he first saw the crime scene that the case was a homicide that investigators would later link to two Arizona fugitives and their accomplice.
"What was really bad was within about a 100-foot radius of the burned out frame, the trees were completely charred, even parts of the corrals," Guadalupe County Sheriff Michael Lucero told jurors. "It was a mess."
The sheriff was among several law enforcement agents who took the stand in the capital murder trial of John McCluskey, the last of three defendants to be tried on federal carjacking and murder charges in the 2010 deaths of Gary and Linda Haas of Tecumseh, Okla.
The retired couple, on their way to an annual camping trip in Colorado, had been targeted for their pickup truck and travel trailer after they stopped at a rest area near the Texas-New Mexico state line on Aug. 2, 2010.
Prosecutors say the couple was forced at gunpoint to drive west along Interstate 40 before being ordered to pull onto a lonely two-lane road. They were shot and then the trailer was taken to a remote ranch in eastern New Mexico, where it was unhitched and burned.
Prosecutor Greg Fouratt showed jurors photographs of everything from the trailer to the dirt road that led to the ranch.
He also played clips from surveillance video taken from a convenience store near a highway exit that showed the truck and trailer headed toward the ranch that afternoon. Less than 40 minutes later, the video shows the truck heading back toward the interstate with no trailer.
A ranch hand testified he discovered the trailer along with three small dogs. Two of the pets were rounded up and their tags led the sheriff to the Haases' daughter.
Lucero testified that he thought he was dealing with a kidnapping.
The case changed when James Butterfield, a criminal investigator with New Mexico State Police, got closer to the wreckage.
"When I arrived at the wheels of the trailer, I started looking down straight in front of me. Through my training and experience, I recognized a skull and a femur bone," he testified.
Other agents testified about finding the Haases stolen truck hours away in Albuquerque. It was unlocked, the keys were in one cup holder and a bottle of brake fluid was in another.
McCluskey's accomplices - his cousin and fiance Casslyn Welch and fellow inmate Tracy Province - are expected to testify next week. Both face life sentences after pleading guilty last year to charges stemming from the Haases' deaths.