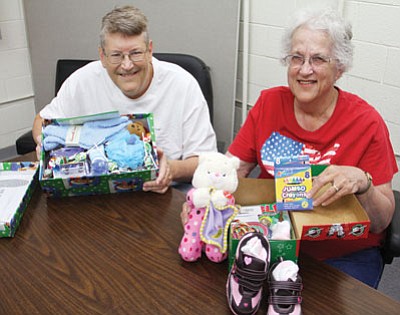 Originally Published: August 26, 2013 6 a.m.
KINGMAN - The annual start of a new school year has special meaning to Liz Lawson.
The retired school librarian who spent 30 years at Cerbat and La Senita elementary schools still looks forward to the event despite no longer gracing the premises. For her, it's now a matter of being able to buy bags of school supplies on sale to fill up shoeboxes for Operation Christmas Child, an international outreach run by Franklin Graham's Samaritan's Purse in Boone, N.C.
"I pick up items all year for my shoeboxes, but I really get a lot more during the school sales," said Lawson, a volunteer for about six years. "I just love it when I find a sale and can bring home six bags full of goodies. For me, shopping like this is a ministry and because I love kids, it's also a lot of fun."
Operation Christmas Child, which began in 1993 and partners with churches and community groups, has distributed more than 100 million shoeboxes to needy children in more than 130 countries. The boxes contain new school supplies, toys, shoes, hygiene items, hard candy, clothes and a personal note from the sender. No chocolate, liquids, toy guns and knives or breakable items are allowed.
Also, the shoeboxes are handed out with a booklet called "The Greatest Gift," which presents the gospel of Jesus Christ. Recipients are encouraged to participate in a 12-week free Bible study course entitled "The Greatest Journey." Over the last four years, about 650,000 children and their families have made spiritual commitments after receiving shoeboxes and reading the booklets.
National collection week is scheduled for Nov. 18-25, including a packing party at First Southern Baptist Church in Kingman.
Southwest Regional Manager Paul Fishbach said most children who receive shoebox gifts live in desperate circumstances, suffering from poverty, sickness, war or natural disaster. The Southwest Region consists of Wyoming, Utah, Colorado, New Mexico and Arizona. Fishbach said the region collected 273,138 shoeboxes last year, a 7.8 percent increase over the year before.
"This is a great time to get school supplies at a discounted cost," said Fishbach. "School supplies are a big deal in many developing countries because kids aren't allowed to attend school without them. And since the parents can't afford to buy them, it helps when those items are included in our shoeboxes."
Mike Baldwin, Operation Christmas Child collection coordinator for Mohave County, said he receives 1,000 printed shoeboxes from the organization each year and asks participants to reach beyond that and use actual shoeboxes or plastic shoebox containers. Last year, about 2,800 shoeboxes of all types were filled and transported to a processing center in Orange County, Calif., to be inspected before being shipped overseas.
Prayer for open minds among the receiving families is an important component of Operation Christmas Child, said Baldwin, who got involved with the organization in 2009 after being invited by a friend to the processing center. There, he heard stories about the huge impact of the small, inexpensive items - such as school supplies - purchased and stuffed into the shoeboxes by shoppers throughout the U.S.
"What really appealed to me were the stories of salvation," said Baldwin. "I am truly a believer in the Bible verse that tells us to go into all the world and preach the gospel. If we build five shoeboxes, one out of five of the recipients will come to believe in Jesus Christ. Before I got involved in Operation Christmas Child, I sent out shoeboxes all the time but I didn't know their effect. That's the difference. Now I do."
For more information about Operation Christmas Child or filling a shoebox, visit samaritanspurse.org/occ. To volunteer or donate items, call Baldwin at (928) 897-1061.
Click for home delivery with comics, grocery deals, inserts, TV listings, coupons and more
More like this story