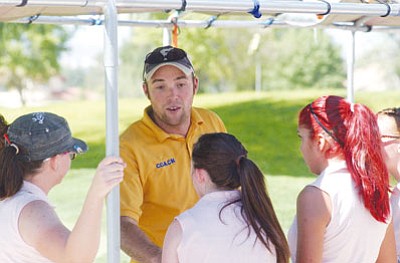 Originally Published: August 27, 2013 6 a.m.
KINGMAN - Bekah Van Kirk's state of mind was vividly clear. She walked onto the green to work on putting again, long before the Kingman High School took part in Monday's meet at Cerbat Cliffs Golf Course.
Van Kirk is ready to build on last season. She finished in the top-30 at state, and she wants a better outcome this time.
"It was definitely a confidence builder because it was like, 'Hey, I can actually do this.' I plan on taking state," the junior said, also noting that her teammates can also rise to the challenge. "They all pull their own weight."
The girls who are expected to take on that role include junior Samantha Hernandez and sophomores Mariah Sammeli and Connie Peterson. Monday's meet was an important starting point for the Lady Bulldogs.
Going up against teams such as Boulder Creek and Lake Havasu, Kingman head coach Ryan Gery anticipates collective growth out of his players.
"This a tough first match, playing a couple really good teams that have veteran players," said Gery, entering his third season at the helm. "I'm just looking forward to an overall team score. I have a score in my mind as a goal. If we can get close to that, then that'll be a good outlook on the rest of the year."
Given last year's final results, Coach Gery expects Van Kirk to qualify for state again. More importantly, Gery sees last season as grounds to argue her numbers can only improve.
"Depending on how she does, I'm looking forward to seeing her do a lot better this year. Last year, she was in the top 30 out of about 90 girls," Gery said.
While expectations are high for Van Kirk, that's not the whole story pertaining to Kingman girls golf in 2013.
Van Kirk will have that reassurance by her side, even though she'll have her sights focused on state. She won't need to worry about being the player who will make Kingman stand out. KHS looks to have additional breakout campaigns.
"Girls I had last year, Connie Peterson and Samantha Hernandez, I think are really going to step up to the plate this year. They did that last year, and their game has only improved since then," Gery said.
Click for home delivery with comics, grocery deals, inserts, TV listings, coupons and more