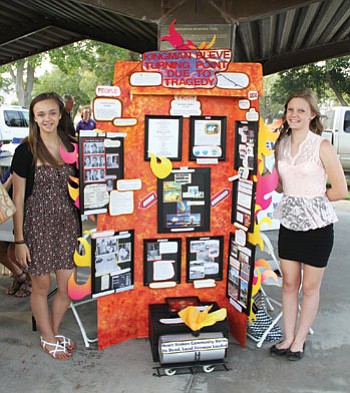 Originally Published: August 29, 2013 6:02 a.m.
KINGMAN - When Olivia Diaz and Avery Moon finally got a chance this summer to view some of the projects entered in the Kenneth E. Behring National History Day national competition in Maryland, their hearts sank.
"It was amazing to see all the projects that were there," said Diaz, noting the most memorable to her were exhibits on the Titanic, Ellis Island and explorers Lewis and Clark. "There were a lot we thought we couldn't compete with because they were so good. The students were very creative. We didn't really expect to place, but we sure hoped to win something."
To their surprise, the girls came in first in Arizona and 10th in the nation in the Group Junior Division Exhibit, which includes students in grades six through eight. They received their award medals and certificates during a recent school board meeting of the Kingman Unified School District.
Diaz and Moon, eighth-graders at Kingman Middle School, used orange paper to depict the flames that killed 11 firefighters and a gas company worker in a 1973 tanker car explosion at the Doxol plant. The 33,000-gallon propane tanker car began leaking as it sat in the hot sun on a railroad siding, then exploded after it caught on fire. More than 100 bystanders were injured in the accident.
The girls said they chose the subject because they wanted to honor those who died. They interviewed 16 people for their project, from the grown children of those killed to a nurse who assisted the injured.
Their exhibit also included details on how the disaster changed firefighting techniques around the world.
Diaz and Moon won second place at the state competition in April with the project, named "Kingman BLEVE Turning Point Due to Tragedy," which propelled them to the national level. Last year, their 3-D project, "Titanic: Safety vs. Luxury," made it to the national level but didn't win.
It was the first year KMS students joined the competition, led by KMS technology teacher Ron Bahre, who remained as the sponsor and guide this year.
A total of 2,800 students from the U.S., Southeast Asia, Guam and China competed in this year's national competition. It took place June 9-13 at the University of Maryland in College Park, Md. Monetary prizes were awarded to the top two winners in the event.
The girls were questioned about their project by four judges as part of determining their standing in the competition, said Moon. The judges asked how long they had worked on their project, their favorite source and part of the project, and why they chose their topic.
Moon said she and Diaz were more prepared for the questions this year because they had competed the year before.
"It wasn't as bad this year, but we were still nervous," said Moon, noting they had better sources this year who live in Kingman. "We answered a lot of their questions before they even asked them.
"Afterward, the judges told us that we were wise women for choosing a local topic like we did."
This year's topic for National History Day is "Rights and Responsibilities in History." The girls said they haven't decided what their project will be yet, but they plan to base it on a local event and conduct even more interviews so they place even higher in the final ranking.
"They've assured me they're going to take third place or better this year," said Bahre. "I can live with that. Seriously, what they've done with their project is a big deal for Kingman. We don't have all the resources they do at the schools in places like Phoenix. I'm very proud of them. The girls found their own sources and did their own interviews.
"If they do take third next year, I'll be very happy."