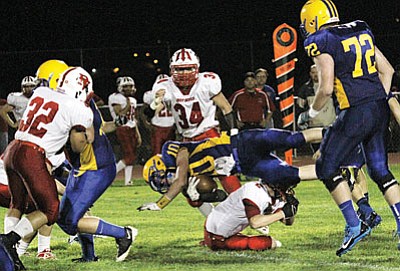 Originally Published: August 31, 2013 noon
KINGMAN - A handful of big first-half plays made the difference in the Kingman High season-opener as the Bulldogs fell to the River Valley Dust Devils 34-0 Friday night.
Despite the lopsided score, first-year coach David Ward saw some things he liked from his team, and he credited a River Valley team that was quicker and well disciplined on both sides of the ball.
"It wasn't like they bit us and we folded," said Ward. "They bit us and we couldn't get anything going. If we had a couple of big plays, we would have loosened up."
River Valley's first score came with less than two minutes left in first quarter on a quarterback sneak from the two-yard line.
After the Bulldogs went four and out to start the second quarter, River Valley tore off a 59-yard touchdown run to make the score 14-0.
Bulldog quarterback Tyler Logas was hit while throwing a pass on the team's next possession and the fluttering ball was intercepted, leading to a 29-yard touchdown run for River Valley and a 21-0 lead.
The first half scoring ended with another long scamper, a 62-yard touchdown with 4.4 seconds remaining.
The Bulldogs' defense stiffened in the second half, limiting the Dust Devils to a touchdown run from inside the five-yard line at the 8:53 mark of the third quarter. River Valley's two-point conversion was broken up in an outstanding defensive play by senior cornerback Skyler Burgess, who had an all-around solid game on both sides of the ball.
Senior running back Joe Scott performed well on both sides of the line. He and Logas accounted for most of the Bulldogs' 127 rushing yards.
Logas also had 90 passing yards despite not having a lot of time to throw the ball in the face of a ferocious River Valley defense.
And while the Bulldogs' offense didn't make a first down until roughly midway through the first quarter, they ended the game with 10, six rushing, three through the air and one by penalty.
The highlight for the Bulldogs came as the game was winding down. Senior Noah Spry tore off a long run after catching a screen pass from Logas and dashing down the sideline until he was brought down from behind inside the 10-yard line.
The game ended after Logas overthrew his man in the end zone.
"River Valley is a good football team," said Ward. "They're disciplined and they're quick. They were just one step ahead of us the whole game."
He praised his quarterback play and also singled out senior offensive lineman Rod Gilleo, who dominated whoever the Dust Devils put in front of him. Scott, Burgess, Dalton Delong and Jake Coffman, who had a drive-stopping interception in the first half, and Spry were also praised, but Ward said he appreciated the entire team's performance.
"We have some good, football-savvy players. They surprised me," he said. "I have nothing but praise for this team. We have guys that have never played football before and they got after it. Guys still wanted to go out and play at the end of the game. They never folded and the second half was a slugfest."
River Valley tallied 215 rushing yards, more than 120 of them on the two second-quarter scoring runs, and 125 passing yards.
"We didn't scrimmage any teams (before the season started) so we found out what we had tonight when the bullets were flying," said River Valley coach Terry Staggs, who is in the second year of his second stint as the Dust Devils coach.
"I feel for coach Ward," he said. "Starting a program from scratch is tough."
Burgess played a gem on defense for the Bulldogs with five solo tackles and tough pass defense. Senior Steve Bonfield recovered a fumble and Dakota Hanes had six solo tackles.
Defensive end Chayce Comins had a good game going until a shoulder injury forced him to sit out most of the first half, but he came back in the second half and finished strong.
Ward said his team will rebound and he's confident the Bulldogs will improve.
"I'm not going to stop pushing the envelope," he said. "We'll grind it out. We've had up-tempo practices and whether we're 10 and 0 or 0 and 10 we'll continue to have up-tempo practices. We'll be all right."