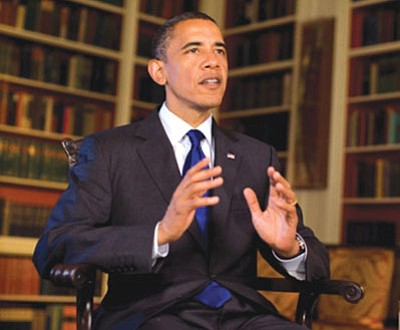 Originally Published: December 1, 2013 6 a.m.
KINGMAN - While the Wall Street Journal has reported that as many as 10 million Americans could have their current health care plans terminated in January because of the Affordable Care Act, officials here are having trouble persuading local consumers to register for the health care marketplace or admit they're being dumped from their health care plans.
"Our job is to help people enroll in the program, but very few are asking us for help with the health care marketplace," said Kathy Trammel, project coordinator for outreach and enrollment at North Country Healthcare in Kingman. "They must be enrolling at home, because we're not seeing it here. We just don't know if they're waiting or doing it themselves. But if they do come in, we're more than willing to help them out."
North Country Healthcare is one of two agencies in Mohave County that offers free federally certified application counselors for those needing assistance with enrolling in the health care marketplace. North Country Healthcare has 14 clinics in Arizona, and Trammel said the Kingman location is seeing 12 to 15 people a week applying for Arizona Health Care Cost Containment System (AHCCCS), the state's Medicaid program that was expanded as part of ACA and will add about 350,000 new participants to the rolls in January. But none want the marketplace.
Don Lynch, a certified public accountant in Kingman, said he isn't surprised local people aren't lining up to enroll in the marketplace. Lynch ran an advertisement entitled "The Obamacare Devastation" in the Daily Miner on Tuesday, saying "(President Barack) Obama lied and people will die." Lynch, who handles tax issues for businesses and individuals, said he is concerned about the impact on his customers' taxes, from no longer being able to deduct medical expenses to paying penalties for not carrying an insurance policy.
"When Obamacare was passed, I knew it was the wrong thing and not the answer to the problem," said Lynch. "It doesn't accomplish anything that its supporters claimed. We're not getting universal health care, and no one can point out anyone who is saving money from it. We have a broken health care system and they took a hammer to it and broke it even more. The damage done is worse than anyone thought it would be."
Local residents are being sought by U.S. Rep. Paul Gosar, R-Ariz., to tell their stories about losing their insurance coverage and experiencing higher policy premiums because of the Affordable Care Act. On June 15, 2009, President Obama promised before ACA rolled out that, "If you like your health care plan, you will be able to keep your health care plan. Period. No one will take it away. No matter what."
Apology
But earlier this month, he apologized to Americans whose insurance plans are being cancelled by their insurance companies because of the ACA. Currently, about 19 million Americans buy individual policies on the private market, and a large portion of them don't meet the new federal requirements for more comprehensive care.
Interested participants can submit their comments at www.gop.gov/yourstory/.
The House Oversight and Government Reform Committee, of which Gosar is a member, is hosting a hearing in Arizona entitled "ObamaCare Implementation, The Broken Promise: If You Like Your Current Plan You Can Keep It." The hearing will take place at 10 a.m. Friday at the Apache Junction Council Chambers, 300 E. Superstition Blvd., in Apache Junction. The event is open to the public.
The hearing will focus on taking testimony from witnesses whose health care plans were cancelled because of the ACA. Gosar said people supported the ACA because they were told they could keep their current plans. He said America is not a one-size-fits-all nation, and many of the plans under the ACA include unnecessary coverage, which drives up the costs for consumers.
Obamacare causing pain
"As millions of Americans are losing the insurance coverage that President Obama falsely promised they could keep, this hearing gives my constituents a platform to tell the federal government's chief watchdog committee how Obamacare is hurting them and their families," said Gosar. "Stories of people from every corner of my district, who are losing their health insurance plan, continue to flood into my office daily.
"This hearing gives my constituents, and people from across the state, the opportunity to unite and show President Obama and Senate Democrats the damage Obamacare is inflicting in Arizona. I hope all those who've been harmed by the president's broken promise will attend the hearing and let their voice be heard. I'm listening."
For assistance enrolling in the marketplace, call North Country Healthcare at (928) 753-1177. To contact Gosar, call his Prescott office at (928) 445-1683.
Click for home delivery with comics, grocery deals, inserts, TV listings, coupons and more