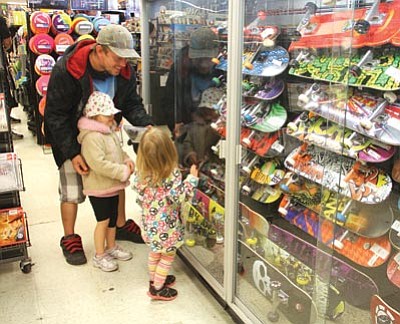 Originally Published: December 1, 2013 6 a.m.
KINGMAN - The Friday after Thanksgiving might not have exactly been a black one for Kingman retailers, but it was at least a very dark blue.
Call it Indigo Friday.
Absent were out-of-control hordes of shoppers, eager to show how thankful they were by trampling their neighbors in a quest for a bargain. But shoppers were out en masse and they had spending on their minds.
"This is the best Black Friday we've had in years," said Ashley Lennard, a manager at JC Penney.
"This is the first year we opened at 8 p.m. on Thanksgiving and we were slammed."
The big seller was luggage priced at "incredibly" low prices, she said, and Arizona Jeans that were going for less than $15 a pair.
"It's been crazy in here," said cashier Jessica Hooper as she and her coworkers greeted long lines of customers at the register.
Business was almost as brisk across the street at the recently opened Tractor Supply Co. on Stockton Hill Road, as it undoubtedly was at other Kingman retailers.
Black Friday, the story goes, is the day most stores begin to make a profit after losing revenue the first 11 months of the year, and the ink on their financial statements goes from red, meaning a negative balance, to black, which indicates a profit, according to www.useconomy.com.
The term did not originate as a positive, according to the website. Police officers and bus drivers first coined "black Friday" in Philadelphia in the 1960s because of problem-causing traffic jams and overcrowded sidewalks in retail districts full of people shopping for Christmas presents the day after Thanksgiving.
Also, days throughout history when the stock market crashed also were dubbed as black, as in Black Monday for Oct. 19, 1987, when the Dow Jones plunged 22 percent in one day - the steepest one-day drop in the stock market's history.
The most familiar stock market tanking was Black Thursday, which occurred on Oct. 24, 1929. The Great Depression followed.
While the Saturday before Christmas used to be the best shopping day of the year for retailers, the day after Thanksgiving has taken that honor since at least 2003, as more and more companies began to offer bargains to lure in customers and their cash - and they seem to open for business earlier each holiday season.
While stores like Walmart begin earning profits by about 8 a.m. on Jan. 1, other retailers, particularly those that anchor shopping malls, actually do make their profits for the year between Black Friday and the Saturday before Christmas, according to the website.
Unfortunately, Black Friday has taken on another negative connotation as each year on this day there are reports of shootings, customers brawling, and a second trampling death since 2005 occurred Friday.
A Long Island, N.Y., Walmart worker was killed after a mob of shoppers smashed through the store's entrance doors and trampled him. Four customers including a woman who is eight months pregnant, were seriously injured.
Shoppers in Kingman, however, are apparently more civilized.
"People have been very well-mannered," said Lennard. "We've received a lot of positive feedback."
Click for home delivery with comics, grocery deals, inserts, TV listings, coupons and more