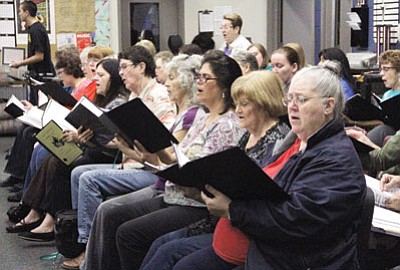 Originally Published: December 3, 2013 6 a.m.
KINGMAN - The Mohave Community Choir and Mohave Community Orchestra are teaming up again this year to provide a bit of cheer to the public during the holidays.
The two organizations are holding a holiday concert, "Christmas Joy in Song," at 3 p.m. and 7 p.m. Saturday at the Kingman High School auditorium, 4182 N. Bank St. Suggested donations are $3 for seniors and children, $5 for adults and $10 for families.
The groups will present four selections from George Frideric Handel's "Messiah," a variety of Christmas carols and some traditional Christmas music, such as "Angels We Have Heard on High," said Orchestra Director Art Swanson. The audience is encouraged to sing along.
This is the fourth year the two organizations have teamed up, Swanson said. It's also the only time of the year that the two music groups offer a joint concert.
"We've been pretty successful so far," Swanson said. "We may not be the New York Philharmonic or the Mormon Tabernacle Choir, but I guarantee that people will enjoy it if they come."
"We've been working really hard on it," said Choir Director Roger Johnson.
The choir and the orchestra both started in the mid-1990s. The orchestra has about 45 members and the choir about 55 members, depending on the time of year.
"A lot of our members are snowbirds," said Swanson. "Some are music teachers. Others are weekend warriors, people who played in their college or high school band. We also have current music students."
Added Johnson: "We're just a group of people who like to sing and have fun. We enjoy putting on concerts for the public in the fall, around Christmas and in the spring."
Residents interested in joining the orchestra can contact Swanson at (928) 753-3902. The orchestra is always looking for musicians who can play stringed instruments, woodwinds, French horns and other brass instruments.
Residents interested in joining the choir can contact Johnson at (928) 757-5567. The choir is looking for new members for its spring concert in January. Johnson does test choir applicants so he can sort the choir properly by voice level - soprano, alto, tenor and bass.