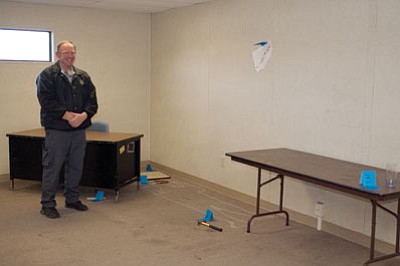 Originally Published: December 4, 2013 6:02 a.m.
KINGMAN - Queue your favorite song from The Who and grab your sunglasses and fingerprint powder. Students at Kingman High School are going high-tech, CSI style.
(Insert wild scream from Roger Daltrey here.)
Starting sometime in January, criminal justice, biology and chemistry students will have the chance to dabble with DNA in a new lab thanks to a more than $5,000 grant from the Western Arizona Vocational Education Joint Technical Education District and matching funds from the Kingman Unified School District. The grant is one of four grants awarded to KUSD by WAVE at its November meeting.
Kerry Schanaman, KHS' Career and Technical Education Law Enforcement instructor, said the grant would be used to purchase a thermal cycler, five mini centrifuges, pipettes and other equipment to allow students to analyze DNA samples using the polymerase chain reaction method.
According to the National Human Genome Research Institute, the polymerase chain reaction method increases the size of a DNA sample collected by a lab technician by "photo copying" the original sample.
The thermo cycler machine heats up the DNA sample, forcing it to split into two single strands of DNA. An enzyme then makes an exact copy of each strand. The machine then repeats the process until a lab has enough "copies" to create a DNA profile.
The kit purchased by the school also includes five mini-sub electrophoresis chambers that will separate the individual DNA fragments based on size.
"I'm so excited about doing this with the students," Schanaman said.
He plans to incorporate the equipment into a new program he added to his classes this year that has students dusting for fingerprints, making plaster casts of shoe prints, packaging evidence and analyzing "blood" splatters. He's also working on a unit with the high school's social studies teacher that recreates a crime scene from an actual case. Students from the social studies class will handle the "courts and justice" part of the project and the criminal justice students will handle collecting and analyzing the "evidence."
His class won't be the only ones using the machines. Biology and chemistry classes at KHS will also get a chance to sequence DNA using the equipment, he said, as will students from Mohave Community College's criminal justice classes.
"We want to make sure that anyone who is interested in using the equipment has the opportunity," he said.
Schanaman said he got the idea to add DNA analysis to the curriculum after visiting a career and technical education seminar this summer in Tucson.
"While I was there, I ran into two ladies who teach a class in DNA sampling at Mesa High School's Biotechnology Academy," he said.
When he returned to Kingman, Schanaman started researching the technology and the cost of the equipment. The name Bio Rad kept coming up as one of the best equipment manufacturers, he said.
When he contacted the company and told them he wanted to use the equipment for his classes, the company discounted the price of the equipment from more than $13,000 to around $9,088.
Schanaman, a 16-year veteran of the Mohave County Sheriff's Office, has been a school resource officer for 15 years. As a school resource officer, he's required to handle any criminal matters that arise at the school and is in charge of two K-9s.
Part of the grant that funds his position at the school also requires him to spend some time teaching during the school year, which doesn't bother Schanaman in the least. He's taught classes at MCC and KHS for the last 13 years. He is also an advisor for the high school's Skills USA chapter, its shooting club and is involved with the local robotics club.
"I love working with the students," he said.
Students in Schanaman's classes learn about the different law enforcement agencies, such as the sheriff's office, police department and FBI, Schanaman said. They also learn about what happens when you get arrested and what happens in a courthouse, a jail, a prison and the U.S. Supreme Court. Students who take the classes get credit toward similar classes at MCC.
The students also seem to have a keen interest in his classes. Schanaman's Introduction to the Administration of Criminal Justice class has grown from eight students in 2000 to 43 students this year.
At least three of the students from that first class have gone on to careers in law enforcement or criminal justice, he said.
"It's an elective. So some students take it to fill out their schedule, but many more take it because they're really interested," Schanaman said. "I like thinking that I'm shaping some of these kids' careers."