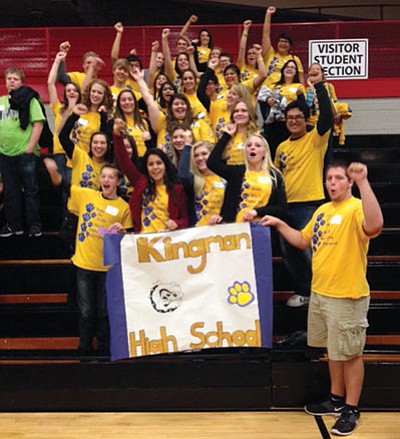 Originally Published: December 6, 2013 6 a.m.
KINGMAN - Seniors and juniors in Kingman High School's Link Crew program are strengthening the ties between freshmen and upperclassmen and hopefully the entire community at the school.
This is the first year the school has offered the Link Crew program and there are 70 juniors and seniors mentoring more than 200 freshmen, said Shelly Moon, a student services specialist and Link Crew coordinator at KHS.
"It helps to know someone who has gone through this before. It makes the transition that much easier," Moon said.
Link Crew is national high school transition mentorship program created by the Boomerang Project, she said. It partners two upperclassmen volunteers called Link Leaders with a freshman student at the beginning of the year. The upperclassmen help the freshmen find their classes, sit with them at pep rallies and sporting events and introduce them to the school's many clubs and sports teams. They also provide freshmen with a peer to go to when they need academic help or a shoulder to cry on when they need emotional support.
Link Crew Coordinator Jennifer Jackson, who also teaches English at KHS, said the program offers much more than just a welcoming face to freshmen. It also improves the community at the school.
Kingman High School is large, spread out and often confusing campus to navigate, she said. Pair that with indifferent upperclassmen and you have a culture that can be very unwelcoming.
That leads to freshmen who don't feel like they're part of the crowd, which can lead to discipline problems, absenteeism and dropouts, Jackson said.
"The class with the largest number of referrals is the ninth graders," she said.
The school has had a problem for years with incoming freshmen making the adjustment to high school life, Moon said. The school started a program called Guide Dawgs in 2007 to help deal with the situation, but it was more of a one-day orientation and then occasionally point-you-in-the-right-direction-for-your-next-class program. Link Crew is a yearlong mentoring program.
Link Crew changes the dynamics of the school, Jackson said. Upperclassmen, who may feel like nameless students suddenly feel like they have some worth because someone is looking to them for help.
"They feel responsible for them," she said.
In turn, freshmen feel like they're part of a bigger community that values them.
Jackson and Moon said they won't know how big an improvement the program will make in the KHS community until the program has been in place for a couple of years. But the students, especially the upperclassmen, are excited about the program and enjoy it.
However, it's not easy being a Link Leader, Moon said.
"They are responsible for their freshmen for the entire year," she said. "They're supposed to make contact with their freshman at least once a week."
Some freshmen aren't interested and take a while to warm up to their upperclassmen, Moon said.
"We still have some freshmen that run in the opposite direction when they see us coming," said Link Leader student Ashley Wilson Norton.
"I've got one freshman who isn't interested in talking to me at all," said David Martinez, another Link Leader student.
Both students wish that KHS had something similar to Link Leaders when they started at the school.
Link Leaders also meet as a group at least once a week to plan monthly events, such as the Freshmen Freeze tailgating party the group held for freshmen at KHS' first home football game or the Coco Cram, which offers hot coco and study skills in the school cafeteria for exam week this month.
The Link Leaders also do leadership presentations in freshmen classes and recently offered anti-bullying lessons for fourth and fifth graders at Cerbat Elementary School, Moon said. They also volunteer for community projects such as Code 3 Clothe the Kids and stacking books for the Friends of the Kingman Library.
Students interested in becoming Link Leaders have to apply and take a two-day training class, she said.
"We try to get kids from all walks of life on campus involved," Jackson said. "We have athletes, the student president of the (Future Farmers of America), kids who are involved in multiple groups and kids who are involved in just a few groups."
It gives freshmen a better sample of what clubs and activities the school offers, she said.
"It's really a challenge for these (Link Leaders)," Jackson said "It's the hardest thing in the world for them to put themselves out on a limb day after day."
But KHS' Link Leaders are a special group, she said. They're typically the overachievers on campus. They're usually involved in more than one group or activity and they're looking to make a difference.