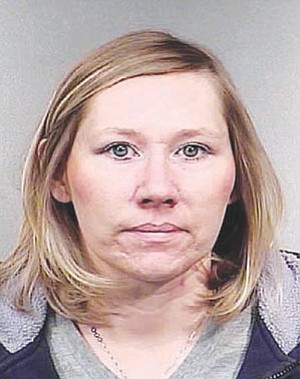 Originally Published: December 10, 2013 6:02 a.m.
KINGMAN - A foster mother whose negligence led to the drowning of an 8-month-old infant in her care was given a 100-day jail term Friday.
Elizabeth Dawn Stone, 32, pleaded guilty to negligent homicide in October, roughly 14 months after the Sept. 25, 2011 incident occurred at her Valle Vista home.
According to an incident report compiled by Mohave County Sheriff's detectives that led to her indictment in January 2012, Stone drew a bath for two foster children, the infant David Whatahomigie and a 3-year-old girl at about 1 p.m.
Stone said the infant was "fussy" so she left to retrieve a towel. While in the hallway, the telephone in the bedroom rang and she answered it.
At roughly the same time, her then-fiance came home and she interacted with him before returning to the bathroom, where the baby was face down in the bathtub.
Detectives believed and an older child in the home confirmed that Stone was out of the bathroom between three and five minutes.
On Friday, neither Stone nor her husband were pleased with the jail term Judge Derek Carlisle handed down.
Her husband, Trevor Nieto, reportedly made a scene in the courtroom and Stone, for her part, complained that the three months and 10 days in jail, along with the case and its financial costs, has ruined her life.
"Your child doesn't have the rest of his life," shot back Carlisle, according to accounts of the hearing.
Whatahomigie suffered from fetal alcohol syndrome and was placed into Stone's care by the Hualapai Tribe.
According to detective reports, Stone and Nieto frantically attempted to save the baby's life through CPR and both were distraught when interviewed. Stone had been a foster mother for about six years and had cared for more than 50 children, including two sons.
Stone must surrender to the Mohave County jail no later than Jan. 6. She must perform 200 hours of community service work and serve a five-year term of probation upon her release.