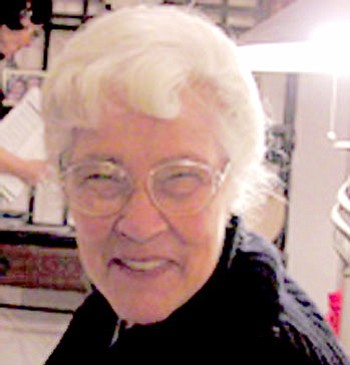 Originally Published: December 11, 2013 6 a.m.
"She was one classy lady," said Bob Fenske, 89, of his wife, Arlene, "and a constant source of sunshine and laughter."
Arlene R. Fenske, recently of Kingman, but born and raised in the Milwaukee, Wis. area, died on Wednesday, Dec. 4, at the Lingenfelter Center at the age of 87. Prior to her stay in Arizona, Arlene was a long-time resident of Houston, Texas, and she lived six years in her beloved Waukesha, Wis.
Arlene will be deeply missed by her husband, Bob, of 65 years and her family. She is loved and missed by her children, Mary Hovatter of San Antonio, John (Susan) of Golden Valley; her nephew, Ronald Maron, of Golden, Colo.; her grandchildren, Kimberly, Dana, Michelle and Nathan; and her great-grandchildren, Kaitlin, Makenna and Lindsey. Arlene is also fondly remembered by her sisters-in-law, Mary Bechmann of Greendale, Wis., and Fran Fenske of Neenah, Wis. Arlene also leaves behind her sisters; Ethel, Faye, Kathleen; brothers, Richard and Lester; and many caring and loving nieces, nephews, and friends from all over the world.
Arlene loved all and let it show. In the 1960s, Arlene and Bob extended their family by taking in four of her nephews, making a family of 10. Because of Arlene and Bob's love, all the kids had a better opportunity to build a life filled with loving kindness and generosity.
Life was not always easy for Arlene, but her faith and devotion got her through the roughest of times. Arlene lost her own mother at a very early age. She emancipated herself in her teens. And she lost many children and close loved ones. Arlene was preceded in death by her sons, Bobby, Jimmy and Gerard; and also her nephews, Mark, Mike and Allen; along with her sister, Dolores; and her beloved niece, Donna.
We'll miss her in so many ways. We'll especially miss Mom's sweet voice in church. To hear her was like hearing an angel sing.
The visitation for Arlene will be held at 9 a.m. Thursday, Dec. 12, at St. Mary's Catholic Church, 226 S. Hartwell, Waukesha, WI 53186. The burial will immediately follow at St. Joseph Catholic Cemetery.
A memorial mass will be said in her honor at St. Mary's Catholic Church, 302 Spring St. in Kingman, at 8 a.m. Jan. 20.
More like this story