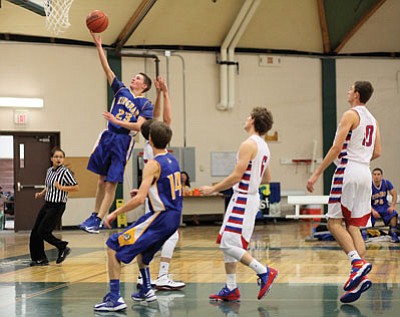 Originally Published: December 15, 2013 6 a.m.
KINGMAN - Getting more playing time for everyone on the team and a chance to build camaraderie among players were the goals for the Kingman High boys basketball team at the Pepsi Holiday Tournament, a 16-team, three-day tournament that ended Saturday in Flagstaff.
Kingman posted a 1-2 record and beat Greyhills Academy in its final game, 52-46.
"Everyone got the opportunity to play a lot of minutes," said KHS coach Ron Anthony. "We had a lot of fun."
The Bulldogs were behind the Fightin' Knights, 22-17, at the end of the first half. Kingman used a 17-9 third quarter to capture the lead and outscored Greyhills, 18-15, in the fourth quarter.
Ethan Adams led Kingman with 21 points. Sean Curran poured in 15 and grabbed eight rebounds. Both T.J. Sherman and Chayce Comins added six points, and Tanner Cardiff finished with four.
It appears the Bulldogs have a handle on their turnover issues. Kingman started the first three games of the season with more than 20 turnovers in each, but in three of the last four it has kept that number under 20.
"It always shows that when we don't turn it over, we have opportunities in games," the coach said. "The first game (of the tournament) we had 26, and you're going to get blown out with those numbers."
Kingman only turned it over 18 times in its second game and had 15 against Greyhills.
But another issue may have reared its ugly head on the Bulldogs. Against the Knights, Kingman missed 18 layups in the first half.
"It's a concentration thing that we will work on," Anthony said.
The Bulldogs played the tournament without the presence of Rod Gilleo, who was in Utah on a football recruiting visit.
"Rod would have helped us," the coach said. "Losing one of your bigs is something you always have to overcome, though."
In Kingman's second game, the Bulldogs led 42-39 after three quarters, but the Grand Canyon Phantoms pulled away in the fourth when they outscored Kingman, 16-5, for a 55-47 win.
Curran recorded his fifth double-double of the season with 15 points and 15 rebounds to lead the Bulldogs in both categories. Adams scored 14, and Andrew Plummer finished with 11.
Kingman opened the tournament with a loss to Winslow, 57-36. The Bulldogs kept the game close in the first quarter but trailed, 16-12. However, Winslow opened things up in the second by outscoring Kingman by 10 and led at the half, 30-16.
Adams led the Bulldogs with 12 points, and Comins joined the double-double club with 10 points and 10 rebounds.
The Bulldogs host Lake Havasu in a return to the regular season at 7 p.m. Monday.