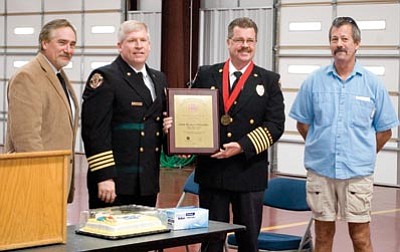 Originally Published: December 18, 2013 6:30 p.m.
GOLDEN VALLEY - Nearly a year after two Golden Valley men and Golden Valley Fire Chief Tom O'Donohue saved a woman trapped in a house fire, representatives from the Motorola Solutions and the International Association of Fire Chiefs presented O'Donohue with the 2013 Benjamin Franklin Award for Valor Tuesday.
The ceremony was a repeat of one that happened in August at the annual Fire-Rescue International conference in Chicago.
Larry Mabry, the territorial vice president of Motorola Solutions for the Western region, said the company wanted to honor O'Donohue and the other heroes of that day in front of their community.
The award is named after the first fire chief in the nation, Benjamin Franklin. It honors career and volunteer firefighters who have saved a human life. Deputy Chief Ted Martin nominated O'Donohue for the award.
"This is the first time we've ever honored a fire chief," Mabry said "It usually goes to an individual firefighter or a squad."
He also said, "In the 44 years we've sponsored the award, we've never honored an act like this."
On Dec. 21, 2012, O'Donohue responded to a house fire near the intersection of Maverick and Destiny Way. He found two men - Robert Davies and Paul Bissonette Jr. - and off-duty Golden Valley Fire Captain Steven Winn trying pull a 92-year-old woman out the back bedroom window.
Davies was actually inside the bedroom. O'Donohue tried to enter the house through an outside door but the heat was too great. He retreated to the back corner of the house where the woman was trapped and broke open another window to provide more air. Then he jumped headfirst into the bedroom through the first window wearing only his turnout coat.
"Firefighters are taught not to go into a burning building unless they have the right gear," Mabry said. "Unless is a funny word, in the wrong hands it can be dangerous, but it can also be life-giving in the right ones."
Once inside, O'Donohue could see fire licking around the edge of the edge of the bedroom door. He and Davies gave the woman one heave and shoved her out the window headfirst and into the arms of
Bissonette and Winn. Davies dived out the window next and then O'Donohue.
As O'Donohue cleared the window frame, fire flashed over the room and shot out the window. It took approximately seven minutes from the time the call came into the department for the men to rescue the woman.
"We strongly discourage people from doing something like this," O'Donohue said. "But without help from these men, that woman would have been dead. It was an amazing rescue."
"Robert and Paul did something that not everyone would do," Martin said. "That means something special. They're the embodiment of what community means."
More like this story