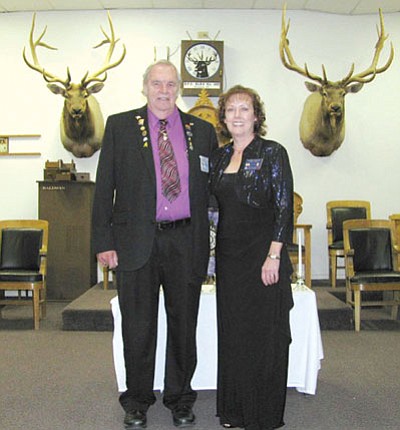 Originally Published: December 19, 2013 6 a.m.
On Dec. 7, the Kingman Elks Lodge No. 468 held its annual Charity Ball Dinner Dance and raised $2,000 for the upcoming Christmas Basket Program. One hundred lodge members and members of the public attended the dinner. Included among those attending was North District Vice President Ray Stock, who was making his annual visit to the lodge.
Prior to the dinner, a brief program was held to remember the anniversary of the attack on Pearl Harbor with U.S. Air Force Chaplain Paul Pitts giving a speech on the events of that day.
We are in need of volunteers for Christmas basket assembly at 1 p.m. Sunday in the lodge room. The basket deliveries will be made at 7 a.m. Christmas Eve.
The following is a list of events for the coming week:
Tacos: 5 to 7 p.m. Thursday, main dining room.
Friday morning: Business Network Breakfast from 7 to 8 a.m.
Friday night dinner: 5 to 7 p.m., main dining room.
Pizza night: 5 to 7 p.m. Tuesday, main dining room.
Meeting night: 5 to 7 p.m. Wednesday (second and fourth of each month), food service in clubroom.
Lunch: 11 a.m. to 2 p.m., Monday through Friday, club room.
For information on all regular events, call (928) 753-2547.