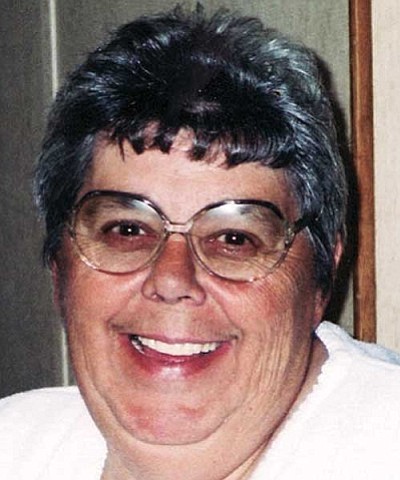 Originally Published: December 20, 2013 6:01 a.m.
Delvina "Dell" Anne Lamphier, 67, of Kingman passed away on Dec. 13, 2013, surrounded by family and friends.
Dell was born Dec. 31, 1945 in Southbridge, Mass., where she spent her childhood and graduated from Southbridge High School in 1964. She left Massachusetts and decided to call Arizona home in 1983.
Dell was an amazing woman. She was a mother, sister, aunt, friend and most of all teacher, not in the traditional classroom setting but in life. She educated her friends and family in both the simple things, such as how sunflowers could brighten up a boring kitchen, and in difficult life lessons about truth and love. She taught all those who were close to her the importance of hard work through her insatiable desire to persevere. She demonstrated this with all her managerial positions, particularly at Walmart, where she worked for more than 15 years in several departments and was a member of several committees. She also showed her love for charity with Walmart by assisting with the Angel Tree and having an active role in the Children's Miracle Network. She frequently took her grandchildren to numerous fundraising events. She shared her love and generosity with many others and continued to help those in need - even in her death, she donated her body to Donate Life and the United Tissue Network.
She showed that compassion with family and friends as well. She was so often the person people went to when they needed to talk. Dell was always willing to listen, even if it meant crawling out of bed at 2 a.m. when you knocked on the front door. She would graciously invite you in for a cup of coffee at the kitchen table and allow you to get whatever you needed to off your chest.
It was through her listening skills that she demonstrated yet another admirable trait - loyalty. When you talked to Dell, you felt safe to say what you really needed to. You knew what you said in confidence would stay that way. She also wasn't afraid to tell you what you needed to hear, even if it wasn't what you wanted to hear, because the truth makes us grow from within.
She gave honesty and expected honesty. In return, she was quick to forgive. She would always make it a point to show you how proud she was when you succeeded at any endeavor and loved to celebrate achievements, no matter how big or small. She taught us that smiles were meant to be shared and that laughter is contagious, especially hers.
Being the person she was, and always the life of the party, she would never hesitate to kick off her shoes to dance and sing. She showed us that patience is instrumental, but occasionally you must demand that things be done the right way. She demonstrated that a mother or mother-in-law can give the best advice, a friend can lend the best shoulder, a grandma can give the best hugs and a great-grandma ("GG") will undoubtedly give the best scooter rides.
Most importantly, she taught each of us how to build a family, not just through birth and marriage but by love and commitment.
Dell was an inspiration to all those who knew her, and it is because of her that we get to walk though each day with an undeniable wisdom about all the incredible things life has in store.
Dell was preceded in death by her parents, Gertrude Williams, Reginald J. French and Harold Dodge, as well as her siblings, Reginald A. French, Wendell French I and Kenneth French.
Dell is survived by her siblings, Colina (Paul) Fontaine of Homosassa, Fla., Clementine (Wendell) French of Gibsonton, Fla., and Louisa (Reginald) French of Rodgers, Conn.; children, James Spear of Shirley, Mass., Daniel Spear and Robin Spear of Lewiston, Maine, Tammy Shonk of Tucson and Laurie (Randy) Ruble of Kingman; 12 grandchildren, Alisha, Joshua, Robert, Keith, DJ, Robert, Steven, Melissa, Britney, Courtney, Justin and Michael; and 10 great-grandchildren, Kaylee, Logan, Payten, Arlan, Zoraida, Tristan, Dillan, Isaac, Winnifred and Lil' Robert.
So many other family and friends loved her.
The family would like to give their deepest gratitude and appreciation to Donate Life and United Tissue Network for their services.
In lieu of flowers, please send cards and donations to: Randy and Laurie Ruble, 1212 E. Andy Devine Ave., Apt. 143, Kingman, AZ, 86401.