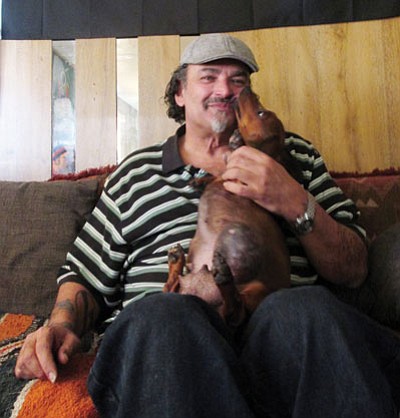 Originally Published: December 22, 2013 6 a.m.
KINGMAN - Nothing would make Daniel Braden happier for Christmas than for his little brown dachshund, Pebbles, to get the surgery she needs to remove a large tumor.
"I just want Pebbles to live," said Braden, crying as he held the dog who was showering his face with kisses. "It's not fair that she should die because people are greedy. It should be all about the dog, not about the money. She's such a good dog and she means so much to me. I just don't know what to do to help her now."
Braden, 58, raised the 11-year-old female dog since birth after her mother died during delivery. Braden said the veterinarian handed him eight newborn puppies, which he bottle-fed and stimulated to go to the bathroom every hour or two for the first few weeks. All the puppies survived, and Braden kept Pebbles and her sister, Sunshine. He still has both.
But about six months ago, he noticed a golf ball-sized lump hanging from Pebbles' left side and began calling around to local veterinarians to see what it would take to have it removed. Braden said he was told it would take cash up front to see the dog and perform the operation, which would cost a minimum of $500 at that time. Since then, the tumor has grown to the size of a soft ball.
Braden, a U.S. Army veteran who is receiving disability for Post Traumatic Stress Disorder, has been struggling to pay medical bills and keep his utilities connected. He didn't have any extra cash to offer for his dog's care, but he called all the veterinary clinics in the area and told them they could automatically deduct payments out of his bank account each month as a guarantee for the bill.
When that suggestion was turned down, he offered to give all his grooming equipment - about $30,000 - to any clinic that would help him. Braden owned a successful grooming business for about 15 years in Crestline, Calif., before moving to Kingman four years ago. The business, called All Creatures Great and Small, had three bathers, two groomers and served about 15 animals a day. All the animal hospitals turned him down, and several veterinarians contacted for the story did not return calls.
"I explained that I didn't have any money and I was a disabled veteran," said Braden, whose truck has a bumper sticker that boasts "My dachshund is smarter than your honor student" on the tailgate. "They wouldn't take payments or anything else I offered to them. My dogs mean everything to me and I just don't understand why no one will help Pebbles."
To offer assistance, call (949) 922-1071 and leave a message with Sean.
Click for home delivery with comics, grocery deals, inserts, TV listings, coupons and more