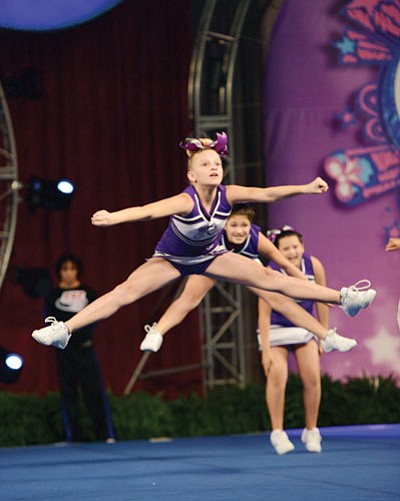 Originally Published: December 24, 2013 6 a.m.
KINGMAN - The members of Kingman's High Desert Rattlers Pop Warner Cheer team are already planning their path to next year's Pop Warner Little Scholars National Championships. The 11 girls took seventh in the competition on Dec. 10.
"We're still a little shell-shocked," Jennifer Rapp said.
The Rattlers are the first team from the Kingman area to make it to the national competition, said Jennifer Rapp, the president of the cheer team.
The 11 girls managed to raise the $20,000 necessary to fly to the competition in Orlando, Fla., earlier this month after winning the Wescon championships on Nov. 24 in Long Beach, Calif.
The national championships started on Dec. 6 and ran through Dec. 14 at the ESPN Wide World of Sports Complex in Orlando.
The Rattlers were the second to last team to perform at the championships. With more than 100 teams performing before them, the wait was nerve-wracking.
"It was so exciting, and scary, and really relieving when we finally got on stage," said team member Nasya Longmire.
"I was about to cry," said Rheannon Mesa.
"I was going to throw up," said Tatum DeLaney.
"I was having a mini heart attack," said Lilly Rapp.
Then there was a little snafu with the lights when the girls started their routine.
"The lights were off when we first started," Mesa said.
But the girls started their routine anyway.
These aren't the typical wave pom-poms and clap cheerleader routines, according to Rapp. The girls do stunts such as a "basket toss," where three cheerleaders toss another cheerleader, a "flyer," into the air and then catch the flyer on the way down.
The lights came back on at a rather crucial and dangerous moment.
"I was in the air when they came back on," said Lilly Rapp.
The girls admitted they made a few mistakes, but they quickly corrected them. They were pleased with seventh place, but hope to score higher next year.
"I'm going to do this every year from now on," Longmire vowed.
More like this story