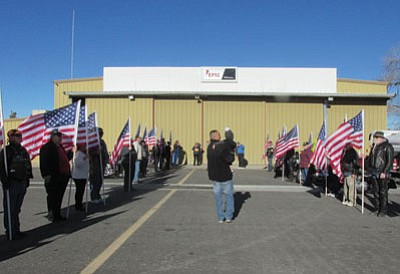 Originally Published: December 25, 2013 6 a.m.
KINGMAN - Christmas is a great time for homecomings.
The scars on Sgt. Tyrell Manakaja's face failed to dim his bright smile as he deplaned from a Gulfstream jet at the Air'Zona Aircraft Services building at Kingman Airport and Industrial Park on Monday.
There to greet the injured former Peach Springs resident were members of the Patriot Guard Riders, who ran a flag line for Manakaja. Representatives from various Kingman-area veterans' organizations were on hand as were a contingent of flag-bearing employees of Home Depot.
Emotions ran high two days before Christmas as Manakaja shook hands or hugged a couple dozen well-wishers. They were there to welcome Manakaja home. They were there to thank him for his sacrifice. They were there to show respect to a wounded warrior.
Also on hand were his parents, Edison and Deborah Manakaja - and they were the happiest of all.
Manakaja was on his second tour in Iraq when shrapnel from an improvised explosive device tore through the walls of the Humvee he was in on a Baghdad street on June 25, 2009. An infantryman assigned to the 1st Battalion, 5th Cavalry Regiment, 2nd Brigade Combat Team, 1st Cavalry Division, Manakaja, 28, remembers the day he was injured along with his driver and gunner, who lost a leg, while they were on patrol.
"It was an ambush," he said. "That's what it was. The IED went off on the side of us and it shot projectiles of molten copper right through (the vehicle)," he said.
His injuries were severe.
"My nose was blown off," he said matter-of-factly. "My neck was opened up because shrapnel severed my carotid artery. I almost lost my eye."
Doctors were able to salvage his leg. Burn scars on his face and a slight limp are the only outward signs that Manakaja was ever injured.
Like the overwhelming majority of troops who have survived horrible wounds in the wars in Iraq and Afghanistan, Manakaja considers himself lucky.
If he has any regrets, it might be that his injuries forced him to retire from the Army, where he planned to spend his working life.
After being treated in Germany, Manakaja was flown to Brooke Army Medical Center in San Antonio, where he and his fiancé, Keria Harlan, and their two sons, Maximus and Maddox, live.
At Brooke, Manakaja said the physical therapists show little mercy to wounded warriors like him, saying it felt more like "training for Special Forces" than convalescence.
"I'm taking it easy right now," he said. Manakaja said he intends to restart his college career in the coming months, with a plan to major in civil engineering.
"We're glad he's home," said Edison Manakaja.
Manakaja and his family were flown to Kingman from San Antonio thanks to the Veterans Airlift Command, a group that provides transportation to wounded warriors for both medical care and happier occasions, like Christmas homecomings.
Click for home delivery with comics, grocery deals, inserts, TV listings, coupons and more