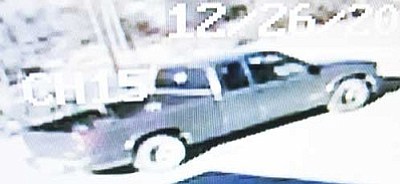 Originally Published: December 26, 2013 3:55 p.m.
GOLDEN VALLEY - A man with a shotgun in one hand and a pillowcase in the other robbed a Texaco Station in the 5400 block of Highway 68 in Golden Valley at about 10:25 a.m. Thursday.
Law enforcement seeks the public's help in apprehending the individuals responsible.
According to Mohave County Sheriff's Office spokeswoman Trish Carter, the man left with an undisclosed amount of cash. Nobody was injured.
The man is described as a white or Hispanic male, possibly in his 20s, 5-foot-10 to 5-foot-11 and between 160 and 200 pounds. He was wearing a gray scarf over his face with a gray hoodie.
Carter said the man was seen exiting the passenger side of a truck while the driver stayed behind the wheel. The vehicle is described as a late 1990s or early 2000s model small truck, either a Chevrolet S-10 or a Toyota Tacoma with an access cab, gray or black in color, with a white sticker in the rear window and mag wheels.
Carter said the suspect is considered armed and dangerous. Anyone with information is encouraged to contact MCSO detectives at (928) 753-0753 or (800) 522-4312. Silent Witness is offering a reward up to $500 for information leading to the arrest and conviction of the people involved.