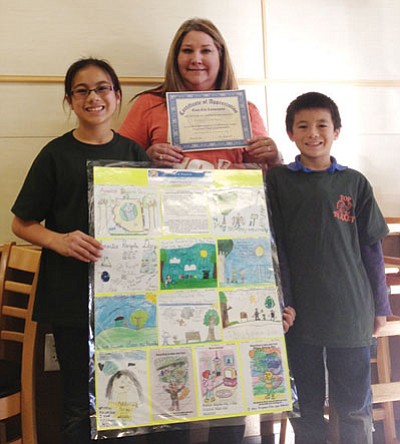 Originally Published: December 30, 2013 6 a.m.
The Kingman Clean City Commission would like to thank all who made the America Recycles Day Poster and Essay Contest a success.
Our sincere appreciation to all 24 participating teachers who encouraged their students to be a part of the 2013 America Recycles Day Contest. A total of 389 posters and essays were collected from multiple classrooms in several local schools from kindergarten through fifth grade. Thank you to all 389 students who participated and thank you to their parents for allowing your children to participate in this contest. Thank you to Mayor Janet Watson who presented the student award certificates for the winning and honorable mention posters and essays at our meeting on Nov. 21.
We also wish to thank sanitation superintendent Ed Tapia parent volunteer and Nina Brackett for presenting recycling lessons to 264 students in 11 classrooms during this contest. Environmental stewardship is an important lesson to be learned in both the home and the classroom and it is in line with the CCC slogan, "I Keep Kingman Clean and Beautiful."
We also wish to recognize local businesses that supported the America Recycles Day Contest by providing donations to the teachers and prizes to the students, including McKee Foods (Little Debbie's), Wal-Mart and Frozen Yogurt Island. A display showing the winning posters and essays will be at Frozen Yogurt Island, located at 3880 Stockton Hill Road, Suite 104, until Jan. 31.
Rich Ruggles
Staff Liaison to the Kingman Clean City Commission