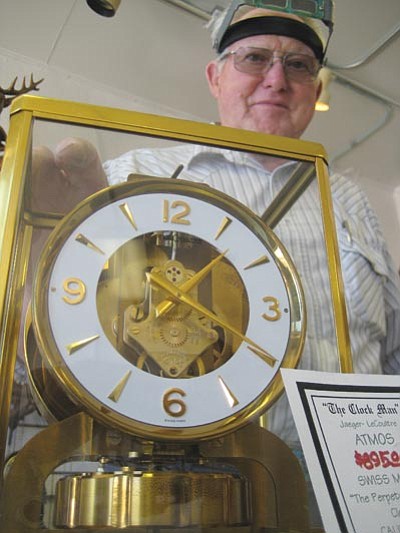 Originally Published: December 30, 2013 11:10 a.m.
KINGMAN - For 40 years, Willis Lynes has had nothing but time on his hands.
At 9 a.m. five days a week, like clockwork, he opens the door to the charming downtown business he's called home for about nine years.
He is the luckiest of people because Willis Lynes has earned a living - and a sterling reputation - indulging in a favorite hobby. In other words, the veteran clockmaker loves what he does.
He is, as the name of his business proclaims, The Clock Man.
A former firefighter with the San Bernardino, Calif., fire department, Lynes was badly injured on the job and given a medical retirement.
He decided to take a hobby that began as a teenager and turn it into a career and he's been going strong since 1974.
"I've always had an interest in things mechanical," he said by way of introduction. Nothing caught his attention like mechanical clocks. Mantle, cuckoo, grandfather or wall, Lynes has taken them apart and put them back together, restoring them in terms both cosmetic and reliable - and as closely as possible to the day they were made.
Parts maker
"We do authentic restorations," said Lynes. "A lot of times a clock will have broken or missing parts, and a lot of parts these days are available, but you still have to make parts to fit or replace missing or broken parts."
Lynes said there are between 50 and 60 individual parts in most clockwork. Each one of them can malfunction or wear out.
A bushing, he said, is the most likely piece of hardware to wear out and with a typical clock averaging 33 of them, replacing these critical elements is a common job.
"A whole lot of engineering goes into what a clockmaker does," said Lynes. "Sometimes you'll compute and measure a missing part and try to figure out what it does. Re-engineering is something we do quite often because we try to keep it as authentic as possible."
A national reputation
Lynes is well known in the business and it isn't uncommon for someone in another state to ship him a clock to repair and restore.
"One gentleman from Indiana sent me a clock. He thought it was a 14th century Chinese clock," said Lynes. "A lot of parts were missing and I spent the better part of a year working on it."
Lynes' attention to detail led him to believe the clock was not as old as the man thought.
"To me it came from the 17th century, but it was still a nice clock."
A woman from the East Coast sent Lynes a mantle clock that a clockmaker in her community deemed "unfixable."
She sent the Kingmanite a nice letter thanking him for the fine job he did fixing the unfixable.
Collectibles
Clocks are a hot item in the world of collectibles, said Lynes, especially when they can be authenticated and "haven't been butchered."
If Lynes has a pet peeve in the clock making business, it's when someone replaces intricate, hand-made clockwork with a quartz battery.
"Amateurs can mess things up," he said.
Lynes said "a lot" of lathe work goes into clock making. Pivots have to be turned and polished and puzzles have to be solved.
While Lynes has an encyclopedia's worth of clock knowledge in his head, he still relies on a small library of reference books.
He also has a membership in two national organizations - the National Association of Watch and Clock Collectors and the American Watchmaker and Clockmaker Institute.
"Both of them are a wealth of information," he said. "When you get stumped, there are people out there that know what you're talking about."
Clocks for sale
The tick-tock sound of dozens of clocks greets customers when they walk into The Clock Shop at 226 E. Beale Street.
They hang on the walls and stand on the floor and sit in the display case. They are big and ornate, small and understated.
Some of them chime and some of them bong and still others cuckoo.
There are about 125 of them and Lynes has restored every one of them.
Two ancient and ornate grandfather clocks stand sentinel in the middle of the room. One was made in 1760 and the other in 1775.
They came from England and Scotland and the repair and restoration was a painstaking process, said Lynes.
"I had to make several parts for both of them," he said. "But they are both very fine clocks."
Lynes brings a passion for clocks to his work, which would explain his renown.
"I'm fascinated with the history of these clocks," he said. "I wish I could hear their stories. I take a great deal of pride in restoring them."
Technology impacts business
The advent of the Technology Age, where everybody has a cell phone and every cell phone gives the time, has put a dent in the clock making business.
While Lynes sells clocks, he said 90 percent of his business is in repairs and restoration.
"I sell clocks as a sideline," he said. "A lot of people still cherish clocks that are family heirlooms, but this youngest generation coming out now doesn't cherish them."
Bonelli House
The historic Bonelli House was built in 1915 not far from The Clock Man. At one time it held the only clock in Kingman and later several more would be added.
"Mr. Bonelli had several fine clocks," said Lynes. "I restored the Jeweler's Regulator for the city museum. It is a wonderful clock."
Lynes also repaired the courthouse clock, but the subject is a touchy one.
"I'm not too proud of that one because the county hasn't kept it up and now it's not running again," he said.
Lynes said clocks such as the one that has graced the downtown courthouse since the 1960s must periodically be cleaned and motors replaced.
Perpetual motion
There's one clock out there that requires little maintenance, but when it does the problems can challenge a clockmaker's skills.
Unlike wind-up clocks, the Atmos gets its energy to run from temperature and atmospheric pressure changes. A single rise or fall in a room's temperature is all that's needed to keep it running for 48 hours.
Inside the clock is a hermetically sealed capsule that holds a mix of gaseous and liquid ethyl chloride that expands when the temperature rises and contracts when it cools.
Lynes is one of only a handful of clock makers who are qualified to work on the Atmos.
"This is my favorite because it's so unique," said Lynes. "The quality is just so impressive."
The Clock Man is open from 9 a.m. to 5 p.m. Tuesdays through Friday and on Saturday from 9 a.m. to 2 p.m.
Stop by with any clocks you need repaired or restored. Lynes will make time for you.
Click for home delivery with comics, grocery deals, inserts, TV listings, coupons and more
More like this story