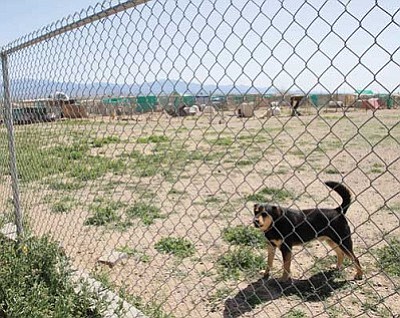 Originally Published: February 1, 2013 6:01 a.m.
KINGMAN - Supporters of the Rescue Unwanted Furry Friends Foundation in Golden Valley are wondering if the animal sanctuary is on the last of its nine lives.
Another chapter in the foundation's three-year battle with Mohave County started Thursday, when RUFFF owner Hillarie Allison went before Mohave County Superior Court to fight a requirement that she use sand as the flooring material in her kennels.
That's what she's been ordered to do by the county, which has separately sought an injunction to shut the shelter down.
Depending on how the case goes, she could win this round, be required to use sand (which she says is bad for the animals) - or have to close, leaving the fate of as many as 200 animals up in the air.
Some of the testimony Thursday was tense.
Allison called Rachel Patterson, the Mohave County Environmental Health Manager, to the stand for one such exchange.
Allison asked Patterson about the conversation they had about choosing proper flooring for the kennels.
"We talked about a lot of different types of flooring - cement, sand, pavers - I don't remember all of the different types we talked about. We were kind of brainstorming to come up with a viable solution for RUFFF," Patterson said.
"And I delivered different samples of sand and gravel to you?" Allison asked.
"Yes, you delivered them to us on May 24," Patterson said.
"Do you have anything in writing with my signature on it agreeing to what you had chosen?" Allison said.
"No," Patterson said.
Allison then asked Patterson to point out where in the county's kennel ordinance it lists specific flooring requirements for outdoor kennels.
Patterson said the ordinance does not specify requirements for outdoor kennels. It states that kennels, including the flooring, must be made of durable materials.
Allison then asked Patterson if she could tell the difference between sand and dirt in three photos of kennels at three different animals sanctuaries - For the Luv of Paws, RUFFF and HALT.
"On first glance, I can't see the difference, but bedding sand is very fine," Patterson said.
Allison has been fighting to get a zoning use permit and a kennel permit from the county since she was cited for not having valid permits in 2010. She has met all of the county's requirements except putting sand in the kennels.
In addition to claiming that sand is harmful, Allison has said it would cost $40,000 to install sand in the kennels.
On Thursday, she presented testimony from two veterinarians and two other animal sanctuary owners, none of whom use sand, to back up her claim.
Testimony in the case will resume on Monday.