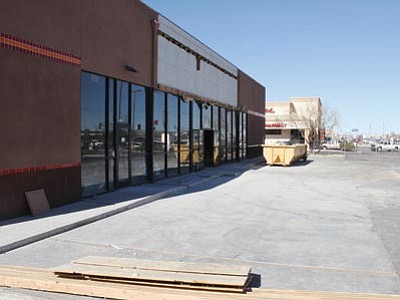 Originally Published: February 3, 2013 6:01 a.m.
The long-vacant commercial building that once housed Blockbuster Video on Stockton Hill Road won't be empty much longer.
"We're under construction as we speak," said Daniel Fenn of Phoenix-based DG Fenn Management. "We hope to open by the end of April or the first part of May. It's full steam ahead."
Chipotle Mexican Grill and Five Guys Burgers and Fries will be dual tenants inside the building, which will undergo extensive renovations inside and out. H&H Development Inc., of Kingman is the general contractor.
"When we're done, it will look like a completely new building," Fenn told the Daily Miner last August when plans were unveiled.
The prime location on Stockton Hill Road between Walgreens and McDonald's should bode well for the tenants as well as people on the hunt for a convenient place to dine. According to Richard Hamilton, owner of H&H Development, Chipotle's will take up about 2,200 square feet on the north side of the building and the 2,500 square feet required by Five Guys will be on the south end.
Negotiations are under way with two other vendors for the remaining 1,200 square feet of available space, Hamilton said.
More like this story