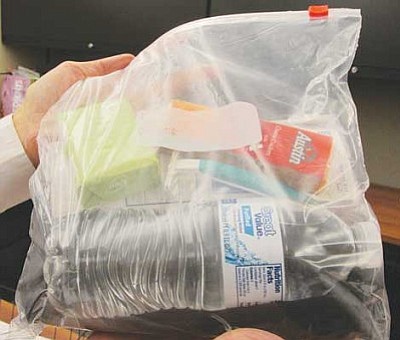 Originally Published: February 15, 2013 6:01 a.m.
KINGMAN ­­- Mohave County's homeless population has dropped slightly over the past two years, but the percentage of veterans who have joined their ranks has grown significantly.
That's one key finding that was revealed in late January when the Mohave County Community Services Department conducted a three-day count of the area's homeless.
"This is just a snapshot," said Dave Wolf, the department's Housing and Community Revitalization manager. "The homeless are not easy to count. A lot of them don't want to be counted, and it's hard when you have a geographic area this size. A lot of them live in the desert."
And a lot of them at one time served in the U.S. military.
Fifty-nine of the 184 homeless people surveyed last month are veterans, said Wolf.
In November 2011, the last time a snapshot survey was conducted, 205 homeless participated. Of them, 42 were veterans, according to Jennifer Burch, a senior housing specialist who led the effort.
This year, Bullhead City had 31 veterans counted, while Kingman had 17. Twelve of Lake Havasu City's 15 homeless people said they were veterans.
The federal Department of Housing and Urban Development manages the informal census of the nation's homeless every other year. Wolf said his department coordinated with several organizations, agencies and churches to ensure duplicate counts were avoided.
Many of the groups were able to offer valuable information to the department, said Wolf, because their core mission is helping the homeless.
The Cornerstone Mission shelter, the Salvation Army, St. Vincent's DePaul, Kingman Aid to Abused People and the Western Arizona Council of Governors all pitched in for the count in Kingman.
An equal number of entities helped out in Bullhead City, where the count revealed 89 homeless residents. Kingman had 80 and there were 15 in Lake Havasu City.
Of Kingman's 80, 66 were individuals and 14 were families, said Burch.
The figures were sent to HUD, where analysts will extrapolate from the numbers an educated guess on how many homeless live in a given area.
But Wolf and Burch have a task that goes beyond knowing how many people in Mohave County go to sleep at night without a bed or roof.
Their goal is to find shelter for the homeless, or for low-income individuals and families who need vouchers for rental assistance.
Community Services primarily deals with housing and workforce development programs, said Wolf.
The Housing Authority is part of Community Services' Housing and Community Revitalization department. Under that umbrella are several programs designed to meet specific needs for those eligible.
Even with an annual budget of $5.7 million, the department can't help everyone, said Wolf.
"There's never enough funding," he said, noting HUD has not approved additional funds to Section 8 for more than a dozen years.
The Section 8 program, which offers rental assistance to low-income families, takes up about $2 million of the budget. Currently, 284 families in Kingman live in Section 8 housing. Three times that many have applied for help. Wolf said area landlords have been very receptive to renting their properties through his department, particularly during the housing meltdown, but the demand for low-income housing far outpaces the funding required to help them all.
"We have about 1,200 people on a waiting list," said Burch. "Some of them have been on it for years." Currently, the department is not adding any new names to the list.
On the plus side, said Wolf, the stock of rentals means the county doesn't have to pay to build or maintain public housing.
While some Section 8 renters were homeless before they were assisted, the majority of renters qualify due to income. Rent amounts vary, depending on how large the family is and how much money they earn.
The rule of thumb is, the renter pays a minimum of 30 percent of their gross adjusted income and the Housing Authority pays the rest.
"A family of four can't make more than $24,000 a year and qualify," said Wolf, "and most of our families of four make between $14,800 and $24,000. We're talking extremely low income."
Programs put in place for homeless people with special needs take up much of the rest of the funding. Two of them are the supportive housing for disabled persons program and a special Veterans Administration program designed specifically to help homeless veterans.
"It's a small percentage of what we can do," said Burch.
A housing program designed to assist people with AIDS helps 32 HIV-positive formerly homeless people with housing vouchers.
Two other programs address the needs of the chronically homeless, defined as someone who has been on the streets for at least one full year or has become homeless at least four times in the past three years.
"These are the very hardcore homeless," said Wolf. "It can be very difficult to get them housed because they've developed homelessness as a lifestyle."
He said there are other issues that make life hard on the homeless - as well as on those who try to help them.
"There's lots of mental illness, drug and alcohol abuse. It's difficult to get them in," said Wolf.
Plenty of them have been helped, however. More than 30 recently homeless people have transitioned to a supportive housing program. More than 50 others receive other assistance and 25 veterans are taking part in the VA program.
"I think we make a difference in a lot of people's lives," said Burch. "The survey means different things for agencies. This is just another step in trying to meet their needs."
For more information on the Mohave County Community Service's housing programs, call Burch at (928) 753-0723.