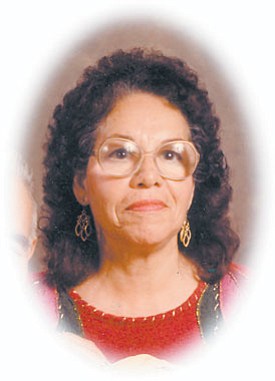 Originally Published: February 17, 2013 6:01 a.m.
Cora Otero, 94, passed away peacefully on Thursday, Feb. 7, 2013, in Apache Junction, Ariz.
She was born Socorro Robles Ballesteros on Nov. 25, 1918, in Nogales, Sonora, Mexico, to Alfredo Ballesteros and Guadalupe Robles Ballesteros. At the age of five (1923) her mother brought her and her 3-year-old brother, Frank, to Sasabe, Ariz., to live. She was the oldest of 16 children. By the age of 12 she was the full-time cook for the family and made fresh hot tortillas every day for everyone.
On Oct. 5, 1933, she was declared a legal resident of the United States of America.
In 1945 she met Joe Otero of Tubac, Ariz., and on Oct. 7, 1946, they were married in Las Vegas, Nev. They had moved to Kingman so that Joe could work in the mines at Oatman. On Jan. 29, 1949, their only child, Alfredo "Al," was born in the old Kingman hospital.
As 1954 dawned, Joe and Cora opened the El Mohave Café at 313 Andy Devine Ave. in Kingman. They worked long and hard years serving the community Cora's famous red and green chili, cheese crisps, bean burros, tacos and enchiladas. This world has never seen a finer cook than Cora Otero.
Beside her love of cooking, her passion for gardening was apparent wherever she lived. Her home on Louise in Kingman had an acre lot filled with over 75 rose bushes and numerous fruit trees. Watering, pruning and raking gave her much peace and happiness.
Not only was she amazing in the kitchen and her yard, but in her personal life as well. She never met a stranger and her kind and generous heart gave her many, many friends who can revel in the sweet memories of her. Her son, Al, and her two grandchildren, Chayce and Cassie, were the center of her universe. In 2004, she moved to Apache Junction to be close to them; she had lived in Kingman 58 years.
Cora is survived by her son, Al (Elise); her grandchildren, Chayce Hamilton Otero and Cassie Jo Otero; and five of her brothers and sisters, Art Aros, Victor Aros, Connie Almado, Mercy Aros and Eva Romo, all of Tucson.
A memorial service will be held at Easter in Tucson. Cora will be laid to rest by her mother at Holy Hope Cemetery.
More like this story