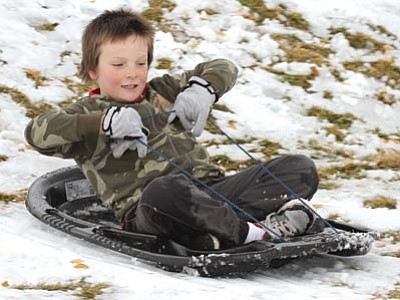 Originally Published: February 19, 2013 6:01 a.m.
Don't pack away those winter coats and hats just yet.
Forecasters with Accuweather.com predict a storm that will hit Arizona tonight will be the coldest of the winter, "with rain, low snow levels and thunderstorms."
The warm temperatures in the Southwest this past weekend could drop by 30 degrees, according to the website.
The storm was expected to hit Northern California Monday night and spread to Southern California by today before fanning eastward across Arizona, Nevada, Utah, New Mexico and Colorado.
According to Accuweather.com, the storm is expected to affect a large part of the nation through the week as it spreads into the plains east of Colorado.
While California expects snow at elevations as low as 2,000 feet in the north and 2,500 in the south, gusty winds will kick up in the deserts today with snow forecasted for Mohave County and Las Vegas tonight.
A foot of snow is expected in Arizona's Rim Country and motorists traveling on Interstate 40 should expect difficult travel, according to Accuweather.com.
One-quarter to one-half of an inch of snow is expected in the desert.
Today's high of 60 will be the warmest for the rest of the week. Temperatures will plunge to a high of 40 on Wednesday before slowly creeping up to 48 on Thursday, 53 on Friday and 58 on Saturday.
Lows will range between 22 and 27 degrees.
Forecasters said the rainfall "should be more than enough to settle dust in the desert areas."
"With very little moisture over the winter, any rainfall will be welcomed," stated Accuweather.com.