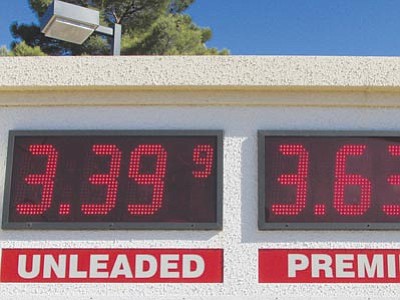 Originally Published: February 19, 2013 6:01 a.m.
Average fuel prices in the state jumped 14 cents a gallon over the last 30 days due in part to more expensive crude oil, according to AAA Arizona. Concerns on the regional level also played a role in the increase.
"Crude oil has gone up almost $10 a barrel since Jan. 15," said AAA's Stephanie Dembowski.
The per-barrel price of $97.35 was posted at the close of day Thursday, but AAA analysts predict the rapid rise won't continue much longer.
"As temporary production concerns are addressed," said AAA's Linda Gorman in a statement, "(We) expect price increases to slow."
Regional refinery issues and plans in Arizona to switch over to summer-blend gasoline next month also contributed to the price increases.
According to Dembowski, there are two refineries that influence current fuel prices in Arizona: the Holly Frontier refinery in New Mexico and the Western refinery in El Paso, Texas.
Both of them are temporarily shut down for annual maintenance, she said.
Fuel prices varied wildly in Kingman at the end of last week. Up from an average of $3.09 a month ago, they ranged from $3.37 to $3.69 last week and put the city at a $3.53 average, about 4 cents higher than the state average of $3.49. The state average is less than a penny more than what Arizona motorists paid at this time last year.
Tucson and Scottsdale hold the low and high averages in the state, with Tucson motorists paying $3.25 and those in Scottsdale shelling out $3.60 a gallon.
Two western states, Wyoming and California, are home to the lowest and highest prices in the lower 48. Nearly $1 dollar per gallon separates the two.
Motorists in Wyoming paid $3.11 a gallon while California drivers paid nearly $4.09.
Motorists in the East Valley, including Mesa, Gilbert, Chandler and Tempe, paid $3.53.9 a gallon - up more than 17 cents from last week and just under 50 cents since last month. The price was roughly 7 cents over last year, according to AAA Arizona.
Prices in Flagstaff averaged $3.51.9, an 8.5-cent jump from last week and nearly 23 cents in a month. Motorists in Flagstaff are paying three cents more for a gallon of gas than they were this time last year.
In Glendale, prices were higher than the average at $3.55.3, up 15 cents in a week and 51 cents for the month. Motorists there are paying nearly 10 cents more than they did in February 2012.
Prices within the Phoenix city limits and Peoria also went up double digits, 16.1 cents and 15.2 cents this past week, respectively. The increases over the month are nearly 50 cents for both areas.
Prices in Prescott averaged $3.46, up nearly 14 cents in a week and nearly 37 cents for the month. Motorists in Prescott are paying about 3 cents more than they did last year.
Arizona motorists can take solace in the knowledge that drivers in other states are paying more.
According to AAA Arizona, the national average of $3.62.8 represents a more than 7 cent jump in the last week and more than 33 cents in the last month.
The average is 11 cents more than the nation's drivers paid for a gallon of regular unleaded gasoline last February.
More like this story