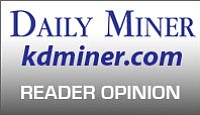 Originally Published: February 19, 2013 6:01 a.m.
The Western Arizona Humane Society runs our animal control through the Kingman shelter.
One of the good things they were doing was posting the animal census for each quarter, and we the animal saviors have been seeing a steady increase of the "live release rate" since they've posted them on their website.
Unfortunately, they dropped the ball and haven't posted the fourth quarter.
These live release rates motivate the animal folks who devote their time and money to a spay/neuter mission to continue the increase. If I were to request it from WAHS, they would know it benefited the animals and would definitely stop posting any numbers.
It wouldn't benefit the people running WAHS if they are handling fewer animals. The county might reduce the dollars they get.
The Low Cost Spay and Neuter Clinic did over 3,500 spay and neuters last year (2012) and they single-handedly will solve the overpopulation of animals because of numbers like that. Where's our spay/neuter program funded by Mohave County? It would benefit them in the long run?
Thanks for your attention. Please help the animals.
Jerry Burch, Kingman
Kristin M. Freiert (The Cat Lady)