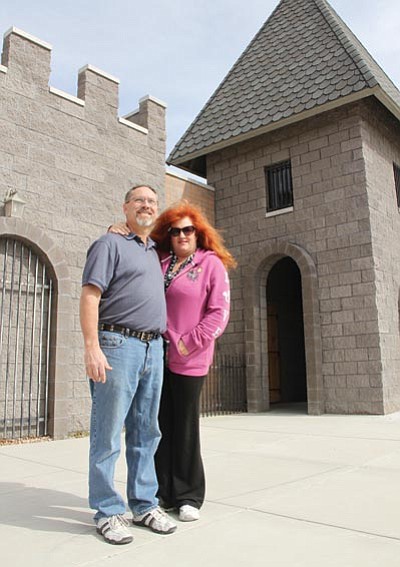 Originally Published: February 20, 2013 6 a.m.
KINGMAN - The Kingdom of God church will hold its first worship services at 6 p.m. March 2 and, fittingly, home is a castle at 1911 Kino Street.
"Everyone is welcome," said Pastor Bob Peet. "No sin is too big to be forgiven."
Peet was awarded a conditional use permit at the Feb. 5 City Council meeting. It was one of the last steps he had to take to see his dream come to fruition.
"God told me to start a church," said Peet. "He's been pulling me in this direction for a couple of years."
It took a while for God to get Peet's attention in the first place.
Before he was Pastor Bob, he was Tequila Bob.
The bar at Northern Avenue and Bank Street bore Peet's first name and was a popular watering hole.
"Tequila Bob's was the busiest bar in Mohave County five years in a row," he said.
"We were infamous. We weren't as rowdy as our reputation, but we were pretty rowdy. We had some great live bands."
And while Tequila Bob's was a bit wild, Bob Peet sowed the last of his wild oats years earlier. He graduated from Kingman High School in 1979 and then moved away for the next two decades.
"I came to Christ in 1987," he said. "I was doing a lot of drugs and [seeing] a lot of women, and my life was out of control. That's when I started going to church."
But it wasn't until Peet moved back to Kingman in 1999, he said, before he actually started reading the Bible.
Before then, he was content with letting others tell him what the Bible contained.
"I started with the Book of James because it was the shortest book in the Bible," he said. "Three pages. I figured I could read three pages."
A verse in the Book of James suggests that mere belief in God will not save a soul. "Demons believe in God and they shudder," recited Peet. "I believed it was enough to believe, but the more I read the more I changed."
Amid his metamorphosis, Peet said owning a bar began to weigh on him.
"I was in the middle of an interesting conflict," he said. "As I grew in Christ and I had a bar, I'd pick up people at the bar and bring them to Praise Chapel for Bible study and then take them back to the bar."
Eventually, Peet said, he had to make a decision.
"We closed the bar in '07."
Since that time, Peet said he attended college theology classes while preaching at Praise Chapel's Jacob's Ladder program. People with alcohol, drug or anger problems are court-ordered to attend, he said.
All the while, God kept pulling Peet to his own pulpit.
"I finally went, kicking and screaming, but I did it," he said.
His college courses focused on apologetics, a philosophy designed to bring people to Christ.
"To use the Bible to prove the Bible is true is not a convincing argument for an atheist," he said. "You have to understand history. There's a big difference between believing in Jesus and just acknowledging he existed."
The Kingdom of God is affiliated with the Seventh-day Baptist church, one of the oldest denominations in the nation. They worship on Saturday, the Sabbath, but Peet said neither he nor the Seventh-day Baptists are "legalistic" over which day to worship.
Peet said his goal is for the Kingdom of God to grow quickly.
"If we do we'll have services on Saturday and Sunday."
As for the congregation, Peet said it will be involved in the community.
"We have to share the good news," he said. "We need to feed the hungry, visit people in the hospital and just be active."
More like this story