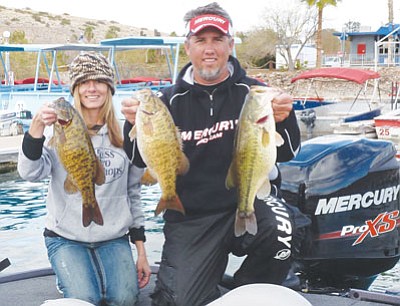 Originally Published: February 20, 2013 6:01 a.m.
Kingman teams fared well at the American Bass Association's Lake Mohave bass tournament.
Eighteen teams participated in the one-day tournament, which was based out of Katherine's Landing on the southern end of Lake Mohave.
Shane Moline and his partner, Tina Kennedy, had just seven bites all day, but they made them all count.
Their top five bass weighed an incredible 20.49 pounds and included the big fish of the tournament, a largemouth that weighed 5.19 pounds. They also had a smallmouth bass that weighed just over 5 pounds.
Moline said that he had pre-fished the tournament just one day and that he had "swam" the baits he was using so as to not hook the fish.
"I just needed to see what they were biting on," the Kingman pro said.
Moline said they caught six of their bass on drop shot rigs fished at 30 feet.
"We did catch that big largemouth on a ledge in 15 feet of water," Moline said.
Second place went to the team of Kingman residents Jim Reeves and Don Snell. Their five-fish limit weighed 17.84 pounds.
The tournament was part of the Southern Division of ABA and the local tournament director is Jim Kirkwood.
For more information on the ABA and upcoming tournaments, contact Kirkwood at (928) 692-5086.